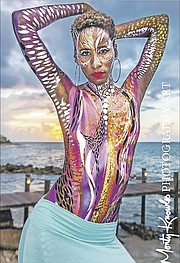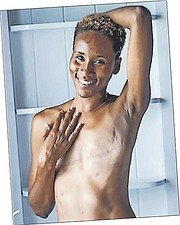 By JEFFARAH GIBSON
Tribune Features Writer
jgibson@tribunemedia.net
RIKA Cargill has lost six of the closet people in her life to cancer. In 2012, she herself was diagnosed with breast cancer, which resulted in a double mastectomy.
But these tragic events were not enough to keep the single mother-of-three down.
No how matter how difficult and heart-wrenching it was, how hopeless the situation sometimes appeared, Rika stayed strong in the face of extreme adversity.
And since beating breast cancer a year ago, she remains dauntless and determined to live life to its fullest while encouraging others to do the same.
Rika's personal experience with cancer began in August 2012 when she discovered something unusual about her breast after giving birth to her son, George. A breast cancer diagnosis soon followed.
"I did chemotherapy here and the cancer completely disappeared. However, it reoccurred the beginning of 2016. There was another lump that came in my right breast, so I decided, 'Get it off!'. So I had a double mastectomy in April 2016. And by May I was up and off bouncing around the place," she told Tribune Woman.
The diagnosis did not come as a complete shock for Rika, as she carries the BRCA-1 gene and cancer runs in her family. Both her mother and grandmother died from the disease in 2006. Two of her aunts later lost their battle with cancer.
"I lost my mother and grandmother, both to breast cancer in 2006. They passed away months apart. And two of my aunts later on. I lost my dad to prostate cancer right after I had my breast removed. I also lost a best friend to breast cancer in October, so I have been going through the ropes. And I just wanted to encourage people," she said.
"A lot of people stop me because I share my journey a lot on Facebook. I took a lot of photos when I had my breasts removed with the tubes still in my chest."
And as if sharing her journey so publicly wasn't in and of itself a brave move, Rika took things a step further when she took part in a body painting session with local artist and photographer Monty Knowles.
"I saw Monty by Montagu Beach and he was doing a body painting. I was blown away because I had wanted to do something like this just to encourage women, telling them, 'You are still beautiful after a mastectomy'. When my kids saw the body painting they said, 'Wow Mummy, you should do that,' and I said, 'I will'.
I did the painting in August and Monty released the photos as a Christmas present to me. He said, 'Rika, just let me know what paintings you like and I will post them.' I told him, 'I like them all'. And when he posted them I was so excited because of the amount of people that were responding," she said.
"Monty Knowles' work is absolutely gorgeous. I wanted to say that even though my breasts are missing, I am still beautiful. So when people see it they don't see missing breasts. All they see is a beautiful work of art, and that was what I wanted."
Since the photos were released, Rika said people have told her that they been inspired by her bravery and have even sent her messages sharing their own battle with cancer. The post on Mr Knowles Facebook page also received thousands of views, shares and even made it to a few blogs.
"I was very open about my journey because I believe once you have that support you can conquer anything. Medicine can help, but it genuinely starts with you. Mind over matter. Every sickness and disease is a mind thing, and once you have the mindset to fight and survive, and you have people loving you, taking care of you, pushing you, (you can do it)," she said.
Several local and international organisations have reached out to Rika to take part in breast cancer awareness initiatives.
"This year, I want to accomplish my goal, which is to start my nonprofit organisation 'I Am The Cure'. I am also starting my brand as well. And every year I am going to support someone going through a life crisis. It could be a homeless person, a mother struggling, or someone going through depression. I just want to encourage people and give them hope," she said.
Today, Rika is cancer free, and with her three children – Terenique, Ticarri and George – rooting for her, she said she will keep on fighting.