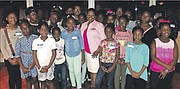 By ALESHA CADET
Tribune Features Reporter
acadet@tribunemedia.net
The Sapphire International Girls Club officially kicked off their 2017 activities with a special session at Mario's Bowling and Entertainment Palace last Saturday.
The event, held under the theme "I Am Royalty – Chosen By God To Set A Holy Standard", attracted a large number of young Bahamians and served to assist parents in raising their daughters in a Christian manner.
Cheryl Knowles, SIGC founder and event host, said the gathering was especially important to the organisation's mentorship team which wants to engage not only the girls, but the parents as well.
The Sapphire International Girls Club has grown tremendously over the past few years, from mentoring nine to more than 50 young ladies.
Since launching, the club has not only operated its full-time mentorship programme, but members have also hosted etiquette workshops, a mother-daughter retreat and their first international girls conference last September.
"We are here to help our parents raise these young ladies. We are living in a time where our young ladies and young men are in dire need of understanding who and whose they are. This is the first time we've began a new year with a kick-off session, and without a doubt it won't be our last," said Ms Knowles.
She said the kick-off session was an exciting and spiritually enriching experience. Guest speaker Maurice "DJ Godson" Fawkes, she said, delivered a presentation that encouraged the young girls to live a 'royal' lifestyle in the Kingdom of God, while providing them with the male perspective.
Highlights also included music performances and presentations by gospel artists Peter Runks, Avalanchee and Latisha Rolle.
"As the young folks would say, it was lit! DJ Godson is an outstanding mentor and motivational speaker who is doing a remarkable job in the Kingdom of God, specifically with the young men in our nation. Also, the performers are not only gifted singers, they are young mentors who can relate and are capable of reaching this now generation positively through various genres of music," said Ms Knowles.
The passion to impart godly wisdom is what will keep the club going in Nassau as well as the Family Islands.
"Seeing (the girls) carry themselves with dignity and pride is what motivates me to continue hosting events such as these," she said.
As for club's goals in 2017, Ms Knowles said her plan is to begin locating a suitable home base for the organisation. The team is also in the process of planning an etiquette workshop to be held on March 25, an anniversary fundraiser called "The Royal Tea Party" to be held this Spring, and the second annual International Girls Conference to be held later in the year.
"We are grateful and excited about what God has in store for the Sapphire International Girls Club and we extend a heartfelt 'thank you' to all of our supporters over the past years and look forward to a remarkable 2017," said Ms Knowles.