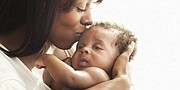 By ALESHA CADET
Tribune Features Reporter
acadet@tribunemedia.net
Under the theme "Ready To Pop", the team at Parchomas Parents Choice Bahamas is hosting its biggest event to date.
Called the Moms2B and Baby Expo, the fun goes down at the Dundas Centre for the Performing Arts on Sunday, July 30.
Launched in 2013, Parchomas was started to not only empower expectant moms but also entire families. The upcoming event, beginning at 6pm, will exhibit and showcase various facets of prenatal healthcare, including products, services and technology, all of which are intended to aid Bahamian mothers and their infants.
Highlights will also include food booths and demonstrations on prenatal yoga, prenatal massages, car seat installation, as well as instructions on how to properly bathe and care for a baby. On site there will also be obstetricians, gynaecologists and paediatricians available for a question and answer period.
"It's really a women empowerment with support from the entire family movement. We are bringing the village back because it takes a village to raise a child," Jasadette Hepburn of Parchomas.
"Every attendee will receive a swag gift bag, but the fist 100 attendees will receive a bag with over $150 worth of baby and mommy products. In the past we had successful workshops and bragged about seminars, but from the year 2013 to now nothing of this magnitude. This expecting expo is very exciting and exhilarating because this is huge; something we've envisioned for so long and now it's in its complete form and it's happening."
She is most excited to see happy pregnant women at the event, because while the expo is informative, it is also deigned to be fun.
"Similar to a 'girls' night out" but with pregnant women," Ms Hepburn added.
"What we teach in our class repetitively is connection and family. When a pregnant lady says, 'I'm so happy I came', I needed that; this is what I am looking forward to. Our president, J Hepburn, 'The Baby Lady', always speaks about her initial walk of passage, transitioning to a mother. Originally we wanted to launch the Baby Expo in 2014, but like with a baby, the process of growth must take place. What really hit home for us was last year during a workshop was when several of our parents indicated that they need this. Here we are in 2017, three years later, launching our expo and we couldn't be more grateful and humbled," said Ms Hepburn.
She believes the expo will be beneficial for pregnant women, especially first-time moms, as the event seeks to positively guide them through a very special time of their lives.
"As an industry involved in nurturing it is important to ensure that moms and moms-to-be are receiving the correct information through a forum such as this. We would also like to ensure that we equip mothers with safe and realistic skills for their motherhood experience. The event brings together under one roof all leading brands, service providers and players big and small within the industry who take care of moms and their little ones," said Ms Hepburn.
Going forward, Parchomas Parents Choice Bahamas is looking forward to taking part in the Global Big Latch On breastfeeding event, continuing its monthly series, a book release, and more.
"Ready To Pop" tickets are set to go on sale this Wednesday at Lowe's Pharmacy locations, Terrell's Room, Camaries Nail Salon and Mommy's Cradle.
For more information contact 433-8904 , 565-8260, 467-4513 or 677-7943, or visit the Facebook page 'Pregnancy Workshops Bahamas'.