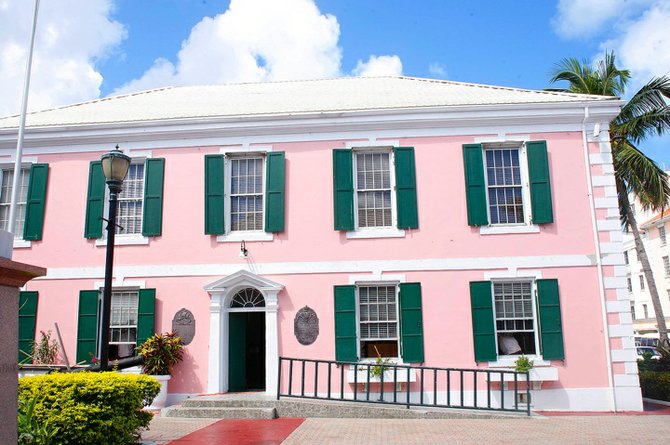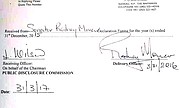 By RICARDO WELLS
Tribune Staff Reporter
rwells@tribunemedia.net
DESPITE his critical role in an ongoing process to have delinquent parliamentarians and senators file their outstanding disclosures or face prosecution, Public Disclosure Commission Chairman Myles Laroda said yesterday that his appointment has expired, leaving aspects of the process "up in the air".
Today was supposed to mark the turnover of Mr Laroda's finalised list of delinquent officials to Attorney General Carl Bethel, however, with this surprising announcement, there is no clarification on how the process will continue in the coming days.
Asked of the status of his operation prior to the expiration of his appointment, Mr Laroda said he and members of his team convened their final meeting Thursday, June 29, and concluded with several disclosures still outstanding and a report not finalised.
In an interview with The Tribune on Thursday, Mr Laroda said in his discussions with some persons who are required to make the disclosures, they expressed certain challenges, which he suggested delayed the submission of documents.
He also said on Thursday that there were some challenges with obtaining financial records from spouses, particularly in situations where they may have operated bank accounts prior to marriage.
He also said there was some unwillingness and apprehension from these spouses to have their private information in the public domain.
Speaking on the matter on Sunday, Mr Laroda maintained that no resolution was achieved as of Friday, and due to the end of his appointment as chairman, he was unaware how those matters were concluded.
"Limbo," he told The Tribune when asked for an update. "These disclosures will be in limbo until a new commission is appointed, whether that is me or someone else.
"A unit can be in place for up to five years, with appointments being renewed annually. June 30 marked the end of my appointment and those assigned along with me.
"I can't tell you what will happen from this point going forward," he said.
When contacted on the matter yesterday, Mr Bethel said he was unaware of the end of Mr Laroda's appointment, and needed to "review their file" to determine how to proceed on the matter.
On June 6, Press Secretary Anthony Newbold said delinquent former and sitting members of Parliament were given three weeks to file disclosures or face the court for breaking the law.
The deadline was imposed by Prime Minister Dr Hubert Minnis and affects more than 20 MPs. It followed a report in The Tribune earlier this month that revealed a handful of parliamentarians did not make a single disclosure last term.
Yesterday, former Senator Rodney Moncur said he was among the politicians who were sent letters by Dr Minnis on June 9 and provided The Tribune with a copy of this letter.
However, Mr Moncur claimed that his declaration forms were current, telling this newspaper that he filed his documents on March 31 of this year and also produced a copy of a receipt from the Public Disclosure Commission.
The talk show host said he feels he is being "targeted" by Dr Minnis, adding that he is contemplating court action to prove that he is not delinquent and to clear his name.
"I am being targeted," Mr Moncur said. "If you are the prime minister and under the law you are required to write me because you feel I didn't comply, what would you send for? My file. Then with my file, you would examine the file and say I am not signing this letter. He has complied.
"He (Dr Minnis) has targeted me. Secondly when I filed, if I didn't give sufficient information the law makes provision for the commission to write me and say 'you didn't give enough information.' I have received nothing formal from the commission and I have complied with the law."
Mr Moncur also took issue with the fact that the letter was not hand delivered by a police officer but sent by post. He said his mail is delivered to his brother's post office box, adding that he did not receive the letter until last Thursday.
He added: "Minnis has targeted me, normally the prime minister does not sign letters. He chose to sign it, he is very incompetent; how many letters has Minnis sent out erroneously having not looked at the file?"
Failure to file disclosures can result in a fine of $10,000, or two years in prison, or both, or confiscation of land if land is involved, Mr Newbold has said.