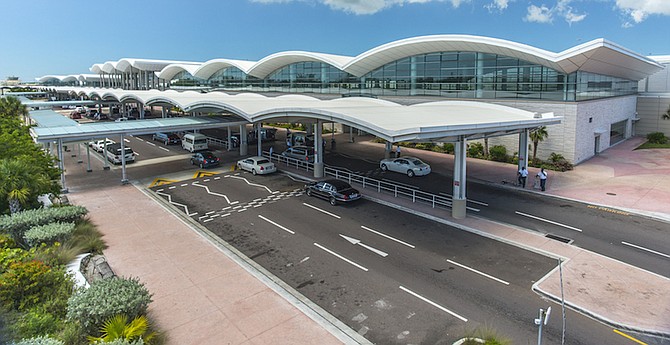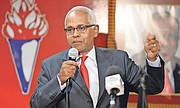 By RICARDO WELLS
Tribune Staff Reporter
rwells@tribunemedia.net
ENHANCED security screening measures announced by the United States for international flights heading to that country may increase screening time for passengers, Tourism and Aviation Minister Dionisio D'Aguilar said yesterday.
He told The Tribune that local travel and airport officials are already working to update industry procedures that could be affected by the new US aviation security measures announced last week.
The new security measures call for greater scrutiny of passengers entering the US, enhanced screening of electronic devices, and better deployment of canines that detect explosives.
Mr D'Aguilar said on Sunday: "The Caribbean has long been a safe place to travel and the greatest case of that is here in the Bahamas."
He continued: "The US government has made its intentions known and the way these changes are shaping up, we expect enhanced procedures where persons travelling from the Bahamas are requested to pack and or present their electronic devices and laptops a certain way.
"Of course, this will increase the amount of time it takes someone to be screened, and as such, we may need persons travelling to come to the airport a little earlier than they are now required.
"We are now at two hours, that may go up to three or even a little more. We are not 100 per cent sure at this time and we know that it is going to be a little rocky in the beginning but we are going to have to put procedures in place that ensures security and ensures a smooth and stress-free process," he said.
When he introduced the updated measures last week, US Secretary of Homeland Security John Kelly indicated that they were the first step in raising "the global baseline of aviation security" making "it harder for terrorists to succeed."
It has been reported that this is a way for the Trump administration to address threats that intelligence suggests are looming without having to do an all-out laptop ban.
Yesterday, Mr D'Aguilar said local officials are now looking at how the announced changes will directly affect Bahamian airports, adding that they will look to establish whatever changes are needed to maintain the country's pre-clearance status.
These new measures aren't designed to target or limit pre-clearance facilities like Lynden Pindling International Airport, but rather to expand the level of screenings and searches done to carry-on items.
Secretary Kelly last Wednesday said the major components of the new policies are designed to encourage more airports around the world to become pre-clearance locations.
It is not clear when the new measures will be put into place, but DHS officials said travellers might start to see changes as early as this summer, the Washington Post reported.