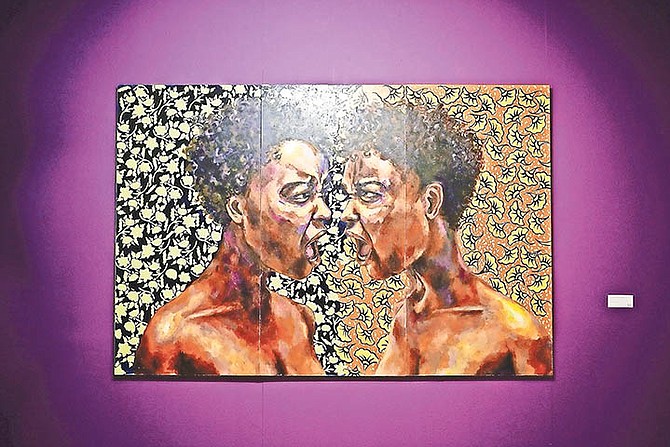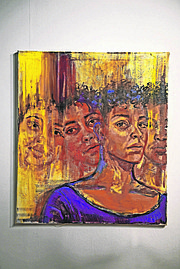 By JEFFARAH GIBSON
Tribune Features Writer
jgibson@tribunemedia.net
AS the only black woman in all of her classes at the Rhode Island School of Design, Gabrielle Banks is well acquainted with the feeling of isolation. And finding ways to share her experiences with a majority white community is something the artist is often tasked with.
With issues of race, colourism and the definition of what it means to be black being explored increasingly in contemporary art, Gabrielle not only tells her story, but also adds to the conversation with her exhibition "The Mark of a Woman", which is on display at the National Art Gallery of the Bahamas until July 30.
"A lot of the work is based on my experiences of being a black female at the Rhode Island School of Design (RISD). In almost all my classes I'm the only woman of colour, along with being the only person from the Bahamas in my undergrad programme. So I've been dealing a lot with different forms of isolation and how to communicate my experiences to a community where white is the majority," Gabrielle told Tribune Woman.
"Being a marginalised body in the US is a complicated experience, but it's one I'm grateful for because it helped inspire the work. I started to notice in a lot of my art history courses that the black female is not frequently represented in Western art. So (I followed) the advice of one of my most respected painting professors, Jennifer Packer: 'Why not just make them black?' "
Aside from the representation of black women, Gabrielle's exhibit also shines a light on themes such as colourism and conflicts of 'blackness' within the black community.
"Therefore, this inspired a lot of the colour schemes within the work. I intentionally chose to work outside of local colour and in a realm where ones 'blackness' can not be fully defined. It becomes complicated to gauge the browns in persons' skin when that person is blue, purple or yellow. I wanted the figures in the paintings to feel like people, women, real individuals that didn't have to be defined by racial or societal standards," she said.
"I wouldn't say I have a style, as I've only been painting at RISD for a year and it's encouraged to not have a style of work. We're so young, and there's so much to absorb and be introduced to, why limit yourself to one type of painting? However, recently I've been really focused on colour and the ways I've been painting; how far one can extend a colour on a canvas and ways to make better painting decisions, and working on different colour grounds, experimenting with layering, glazes, translucency and opacities. Essentially I've been really interested in the medium of oil, it's limitations and versatility."
Since many of the paintings are based on the theme of reclaiming the image of the black woman, the artists' subjects are mainly adapted from the work of white artists and alterations are made to the figures' gender and features to give fairer representation.
"My process is to take a work and replace that image with that of a black woman, to where her nudity doesn't solely define her as a sexual object, or as an image to objectify and dehumanise her," Gabrielle explained.
"It was important for me as a task for myself. I spent a lot of time self-reflecting and thinking about my relationship to painting, myself, and my peers. This theme of 'defining blackness' is something that has been installed historically in all marginalised communities; the need to be categorised and placed into a box as a means of limiting an individual to specific standards. It's limiting and dehumanising. And so I embraced it. I made every painting this semester about my so called 'black thing' and it was empowering, I finally felt comfortable in my subject matter and process."
The eight pieces that were on display during the opening of her show garnered positive feedback from persons, she told Tribune Woman.
"A lot of positive feedback. Everyone was really open and supportive about the work. I couldn't have asked for a more understanding and positive group of family members and friendly individuals. Everyone was so open-minded about the content, the way it was presented and what it represented. People were engaged with the work and wanted to know more. It was a wonderful experience that I'm so thankful for, especially the community of individuals that made it happen," she said.
Gabrielle is currently acquiring her Bachelor of Fine Arts in Painting with a concentration in Art History at RISD. She specialises in portraiture, but has recently been exploring textiles and patterns within her growing body of work.