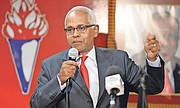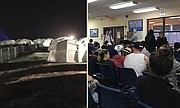 BAHAMIAN vendors allegedly owed thousands of dollars in the wake of the botched Fyre Festival will likely get "nothing" as unsecured creditors, Tourism Minister Dionisio D'Aguilar said yesterday.
Mr D'Aguilar weighed in on the fate of businesses and local workers as he pushed back against criticisms over the Ministry of Tourism's role in the failed event.
He acknowledged that more due diligence could have been performed on the part of his ministry; however, he said that it was unlikely further background checks would have countered the fact that organisers booked some 6,000 tickets for the two-weekend event.
"The government obviously isn't going to guarantee the payment of it," he said. "We were hoping these people (Fyre organisers), they owed the government of the Bahamas import taxes, landing fees, immigration processing fees, any number of fees, and the containers were seized by (Department of) Customs as collateral."
The Tribune understands trailers seized by the Department Customs for nonpayment have since been released; however, Mr D'Aguilar said he could not confirm the payment yesterday.
"We have to find out what they paid," he said. "I don't know if we were legally allowed to tack on what third party vendors were owed as a condition of releasing the equipment."
When asked about the fate of unpaid workers and vendors, he said: "Probably nothing, sadly it will probably be nothing. I don't want to be harsh but unfortunately that's one of the risks businesses take."
Last week, Fyre Festival lead organiser Billy McFarland was arrested and released on bail in the United States on a federal wire fraud charge in connection with the ill-fated festival.
The Tribune understands that agents from the US' Federal Bureau of Investigation received a permit from the government to conduct a probe in Exuma after the botched event went up in smoke on April 27.
Yesterday, Mr D'Aguilar insisted that tourism officials only performed perfunctory roles in connecting organisers with the relevant government agencies and expressed confidence that there was nothing untoward about the involvement of his ministry.
"Anybody who comes into the country and wants to hold a festival or event, the Ministry of Tourism rises to the occasion and assists. We facilitate, you need someone at BEC (BPL), customs, flight operations, we put these people in contact and say these are the people you need to speak to.
"In no instance did the Ministry of Tourism take control of this event. They presented themselves, the position was let's find the people on the ground that you need to make this thing work."
"We should have done our due diligence on the organisers of this event, but even so we probably would not have found anything because we would have been enamored by the fact that organisers had booked some 6,000 persons. It was 3,000 for one weekend and 3,000 for the other."
He continued: "What we should have done was, we should have said 'where are all these people going to stay? How is this going to work?' Maybe be a little bit more involved in saying 'hey maybe we should check things out (in respect to accommodations).' They didn't ask us for help in that area, so we were just like, 'where do you need us to help?'
"We got sucked in to the excitement of the moment, and nobody stepped back and looked at it. Our job was to make sure they were in touch with public health, we just facilitated them and put them into contact with the arms of the government."
He said tourism officials "rose to the occasion" after the event descended into chaos, assisting stranded ticket-holders and coordinating flights in hopes of making the "god-awful situation" better.
"I don't think the employees of the ministry did anything, from what I can tell," he said. "My initial indications are they tried their endeavour best in assisting them."
Mr D'Aguilar assumed his post after the May 10 general election and was not in place for the planning of the Fyre Festival.
Speaking to the level of communication from his ministry post-festival, he said: "I don't think there was a cover-up. I think there's no good news to bring, nobody likes to say well you're not getting nothing. You're an unsecured creditor.
"This is just an unfortunate situation that went horribly wrong and we learned from it."
Mr D'Aguilar's explanation mirrors previous statements on the matter given by former Tourism Minister Obie Wilchcombe.