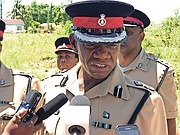 By SANCHESKA DORSETT
Tribune Staff Reporter
sdorsett@tribunemedia.net
IN response to an increase in shootings in the Fox Hill area, Royal Bahamas Police Force officers conducted a walk-a-bout in the community yesterday morning, gathering information and giving residents safety tips.
Senior Assistant Commissioner of Police Stephen Dean said the walkabout was "the first of many" officers plan to conduct in the area known to police as a crime hotspot.
"This is just a small part of what we have been doing in this area, we have been running operations in this area simultaneously," Senior ACP Dean said.
"I can tell you just over the past two weeks, we launched a major operation in this area, where we recovered a large number of firearms. We continue to arrest prolific offenders in this area. We have some people that we are targeting and I can tell you in short order if they have not been visited by us as yet, they will soon be in custody. We do not do these walk-a-bouts for publicity, we do this for a personal touch. People want to talk to the chief of police in the area, they want to see us, they want us to walk about, this is one of our most effective tools in this area. This is not a public relations exercise."
Chief Superintendent of Police Maxine Rolle, officer-in-charge of the Eastern Division, said Wednesday's walkabout was the first she has conducted since her appointment three weeks ago.
She plans to canvass the area "at least twice a month".
"Recently we have been having a spate of shootings in this area and so we decided to get all our resources together and come out here to reassure the good citizens that the police are here to assist them in whatever they need and we will be here as long as we have to doing our walkabouts and executing our search warrants and arresting the bad persons in this area," Chief Supt Rolle said.
"Crime has been trending down recently but we have seen it start to rise again with these shootings. The people in this community have been very helpful and I would like to say thank you to them for helping us."
Rachel Beneby, a 30-year resident of Fox Hill, said she missed "the old days" when Fox Hill was safe "and the boys had respect".
"It used to be so calm around here, so safe. In the good old days, there wasn't much crime around here," she said.
"The young men were decent and respectable. They were not wild and killing each other but these young men they don't have respect for anyone and they do not care what they do and who they do it to. The crime through here is bad, but I blame the parents who raised these children and bring them into the world and don't teach them right from wrong."