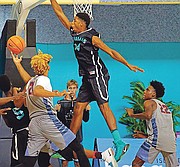 By RENALDO DORSETT
Tribune Sports Reporter
rdorsett@tribunemedia.net
ANOTHER Bahamian basketball talent received an opportunity to further his academic and athletic career through basketball.
Lathaniel Bastian is expected to join the Gillette Proghorns men's basketball programme on a full athletic scholarship this fall.
The 6'7", 205-pound forward will join a programme with a rich tradition under head coach Shawn Neary.
Located in Gillette, Wyoming, the Proghorns compete in the National Junior Collegiate Athletic Association's Region IX.
In just eight years since its inception, Gillete is a three time national tournament qualifier, two-time Region IX champion and has produced 15 All-Region players.
Locally, Bastian spent his high school years with the Doris Johnson Mystic Marlins under head coach Denycko Bowles and was also a member of Bowles' International Basketball Academy - Bahamas.
"Coach Bowles was the coach at Doris Johnson, he saw that I needed work, he saw that I was shaky in the game and he did all that he could to develop me into the player I am now," Bastian said.
"He saw potential in me. I used to be nervous, with the crowd watching me I really want to play well for the crowd. Going over there [the United States] no one really knew so I realised I don't have to play for the crowd I can play for myself and that's where my game really elevated and I became more dominant. That's where I started developing. My time at IBA helped my confidence and it helped me be physical and develop my game."
Bastian participated in a pair of showcases this offseason - the Darrell Sears Showcase in Grand Bahama and the IBA/Get Me Recruited Super 60, Hot 100 Showdown in New Providence.
Following his career at Doris Johnson, he spent a year with the Game on Rise Academy, a prep school in Ocala, Florida.
Game on Rise Academy is a year-round basketball training, recruitment assistance programme. The organisation boasts "85 combined years of academic tutoring, athletic training, weight training, counselling, mentoring, life skill and time management teaching."
The format of the prep institutions academic and athletic regimen is marketed to appeal to international students.
Bastian was afforded the opportunity to compete against other academies, junior colleges and prep schools.
It gives players an opportunity to train another year if the offers to colleges were unavailable immediately after high school.
"There is a small niche in basketball where these guys finish high school and they are not good enough to immediately play in college or they simply just haven't been recognised," Game On Rise founder Mike Kirkland told the Ocala Star Banner.
"So we have provided an area where kids can come to train and gain a solid extra year to help them earn a scholarship playing basketball. We have a loaded database of coaches and scouts that we contact regularly and help get these players to the next level."