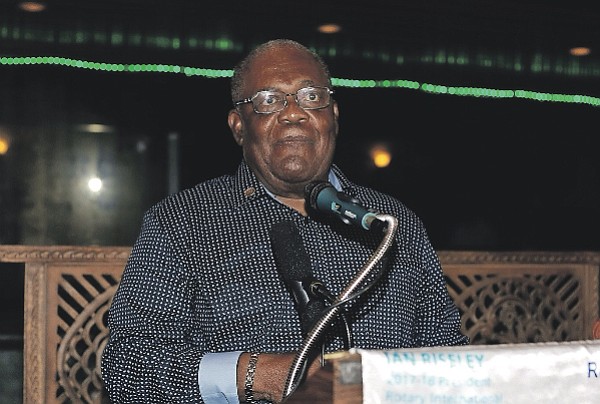 By RASHAD ROLLE
rrolle@tribunemedia.net
SARKIS Izmirlian is "dead wrong" calling for a moratorium on the sale of Baha Mar, former Prime Minister Hubert Ingraham said yesterday.
During a Rotary Club of Southeast Nassau meeting yesterday, Mr Ingraham said the Minnis administration should do nothing that would disrupt Baha Mar's ability to open as quickly as possible and begin employing thousands of Bahamians.
His comment came nearly two weeks after Mr Izmirlian, Baha Mar's original developer whose family invested hundreds of millions in Baha Mar, called for a moratorium on the mega resort's sale to Chow Tai Fook Enterprises Ltd. Mr Izmirlian also called for an investigation into the concessions the Christie administration offered to Chinese investors for the efforts in remobilising construction last year on the troubled resort.
"The completion of Baha Mar and its operation is of critical and essential importance to the economy of the Bahamas and the people of the Bahamas," Mr Ingraham said. "The government must do nothing whatsoever to stop it from being completed; it must do whatever it can to facilitate the completion of Baha Mar because we need the jobs. We need to ensure that we are not downgraded (by international credit rating agencies) even further and that we get upgraded. So, I'm not aware of what Sarkis said but if he said that he's dead wrong."
Mr Ingraham's reaction to Mr Izmirlian's statements was more emphatic than the Minnis administration's reaction.
Both Prime Minister Dr Hubert Minnis and Attorney General Carl Bethel have said the government won't interfere with Baha Mar's sale. However Dr Minnis appeared defensive when questioned about the controversy last week.
While in opposition, Dr Minnis pledged to execute a "real sale" of Baha Mar "to a qualified and respectable purchaser who believes in Bahamians; a purchaser who will utilise only Bahamian labour to complete the resort, and will put Bahamians back to work with real jobs as quickly as possible."
Two weeks ago, nonetheless, Mr Bethel said there was nothing in the recently unsealed Baha Mar agreements that would make the government renegotiate the deal.
Mr Ingraham yesterday reiterated his view that the Christie administration erred in putting Baha Mar in liquidation in local courts rather than let Mr Izmirlian pursue his Chapter 11 avenue for settling his dispute with Baha Mar's contractor, China Construction America (CCA) in the United States.
Mr Ingraham said he does not know if Mr Izmirlian can receive any remedies for the millions he invested in Baha Mar.
"I think the government was dead wrong when it put Baha Mar in liquidation," he said. "It should never have gotten involved with that aspect of the dispute. That would've left Mr Izmirlian and the Chinese to fight their battle out in court or through arbitration. Once the government put Baha Mar in liquidation, it removed from Sarkis Izmirlian and his father and those, any rights they had to contest what had happened.
"That was a very wrongful decision on the part of the government. I told that to the prime minister in writing and personally, that that should have never happened. Whether or not the present government is able to right that wrong without interfering with what I say is a fundamental need that is for Baha Mar to be concluded and opened and operated, I don't know; but that's a challenge that they have, to cause redress for Sarkis' grievance and at the same time be focused on what the public interest is and that is to complete Baha Mar, hire the thousands of people and let's get on with it."