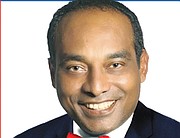 By AVA TURNQUEST
Tribune Chief Reporter
aturnquest@tribunemedia.net
THE explosive murder-for-hire and harassment lawsuit waged against Canadian fashion mogul Peter Nygard and lawyer Keod Smith by Minister of Environment Romauld Ferreira, several Save The Bays directors and a local pastor was adjourned Tuesday.
Acting Justice Donna Newton is expected to deliver her written judgment on the plaintiff's application for a default judgment and two applications from defendants: one for an extension to submit their defence and another calling for case dismissal on the grounds that it was scandalous, vexatious and an abuse of the court process.
On Tuesday, plaintiff Save The Bays Legal Director Fred Smith, QC, said there was no expected timeline on when the judgment would be given, adding that it could take up to three months.
The lawsuit, filed last year on March 9, alleges that Mr Nygard engaged in a murder-for-hire scheme with criminals Livingston "Toggie" Bullard and Wisler "Bobo" Davilma, and paid them to stage several hate rallies and commit such criminal acts as arson and harassment.
The murder-for-hire scheme was allegedly directed at Mr Fred Smith and another Save The Bays director, Lyford Cay billionaire Louis Bacon - who is also Mr Nygard's neighbour. The other directors, inclusive of Mr Ferreira, and local pastor C B Moss allegedly received death threats and other forms of harassment such as arson and slashed car tyres.
Mr Ferreira, the MP for Marathon, previously served as a director for Save The Bays but stepped down from the post before the general election. He also removed himself as legal counsel for Save The Bays (Coalition to Protect Clifton Bay) in its ongoing judicial review proceedings.
The environmental group has four sets of judicial review proceedings in relation to alleged unauthorised construction and Crown land reclamation activities of Mr Nygard at Nygard Cay, and the failure of the PLP government to take appropriate action, including the prime minister, deputy prime minister, the Town Planning Committee, the director of physical planning and others.
It was questioned whether Mr Ferreira would also remove himself as a plaintiff in the private harassment case due to his present parliamentary post, and subsequent appointment as a Cabinet minister in the new government.
Mr Ferreira was also part of a petition filed last year by the Grand Bahama Human Rights Association to the Inter American Commission on Human Rights (IACHR), which requested that the Bahamas government adopt precautionary measures to prevent irreparable harm to their lives.
Mr Fred Smith said Tuesday: "I can confirm that Mr Romauld Ferreira was counsel for the Coalition in all judicial reviews and he's no longer acting as counsel in any of those cases. But he, in his personal capacity, in his personal case against Mr Nygard, he remains as a plaintiff."
More like this story