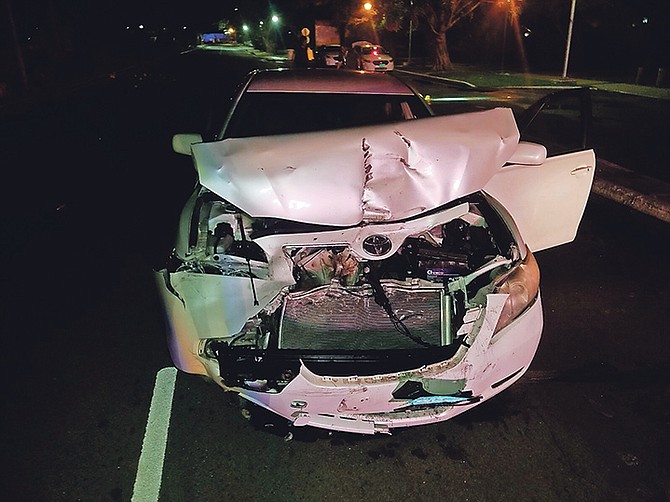 By SANCHESKA DORSETT
Tribune Staff Reporter
sdorsett@tribunemedia.net
SENIOR Assistant Commissioner of Police Stephen Dean warned criminals "not to challenge the police" hours after an armed suspect was shot by officers following a high-speed car chase in New Providence.
The drama unfolded shortly after 1am on Wednesday off Carmichael Road and ended near the Sidney Poitier Bridge on East Bay Street. Police said two armed men opened fire on officers, prompting an exchange of gunfire.
Senior ACP Dean said police received information that two men were in a white Camry, armed with firearms. An all-points bulletin (APB) was immediately issued for the vehicle.
"A few minutes later, officers from the Mobile Division were in the right place at the right time and they spotted the vehicle and signalled for the driver to stop," Senior ACP Dean said.
"The driver refused and sped off, which resulted in a high-speed chase through several communities in New Providence, but we were not going to let these men get away. The chase ended when the suspects' vehicle crashed near the Sir Sidney Poitier Bridge on East Bay Street.
"The two male suspects exited the vehicle and opened fire on the police." "The officers, who are well trained, returned fire resulting in one of the males being shot. The two suspects were arrested and a handgun was recovered from the vehicle."
The injured suspect is listed in serious, but stable condition in hospital and is under heavy police guard.
Senior ACP Dean said the incident proves that officers are doing all they can to rid the country of "those who wish to harm innocent persons".
"The arrest was significant and it shows that our officers are out there and they are working," he said.
"I am proud to be a member of this organisation and I do not know a police force that is better than this one. This speaks volumes to the work that our officers have been doing and I want to tell the criminals – do not challenge the police, we are trained. If you challenge us, it will not end well for you."
Senior ACP Dean said the RBPF will continue to target repeat offenders and bring them to justice, no matter how many times they are released from the Department of Correctional Services.
His comments came after a man who was released on bail for a firearm charge and who beat a murder charge earlier this year was shot and killed on Monday night in front of his home.
The murder came three days after another man out on bail was shot and killed near Meadow Street.
"We will continue to target prolific offenders," Senior ACP Dean said. "We have been saying this for a very long time. These persons who are involved in crime, whether they be the criminal or the victim, these are persons that have been released on bail.
"(The recent killings are) two absolute examples of what we have been saying, someone who was on bail for murder, someone who is on bail for firearms and just got off a murder case were killed. We have issues with these persons either committing crimes again or becoming victims of violent crimes. I can tell you that is our core focus, we will continue to arrest them and we will continue to do our job. We are not castigating the judiciary. We are doing our job. We will arrest these prolific offenders."
The man who was killed shortly before midnight on Monday has been identified as Dereck Neilly, 25, who was shot multiple times hours after he received bail for a gun possession charge.
According to police, Neilly was standing near his home off Market Street when a man armed with a handgun approached and shot him multiple times before fleeing the area on foot.
He was pronounced dead on the scene. Police have no motive for the crime and no suspects in custody.
Neilly, along with another man, was also accused of the murder of Latore Mackey, the press aide of former Prime Minister Perry Christie.
However, in February, the Office of the Attorney General directed that proceedings against both men end after a witness recanted his initial statement.
Last Friday, 33-year-old Valentino Ferguson was shot and killed on Wulff Road.
Ferguson was out on bail for murder, according to police.
Last week, Commissioner of Police Ellison Greenslade said the country was "recycling" prolific offenders due to less than firm punishments.
Commissioner Greenslade said that no number of arrests and aggressive police tactics could limit crime if "the people who are coming into the system, that is the bad people who are committing crimes, very serious crimes in this country, are not dealt with in a very firm way".
Anyone with information on this incident is asked to contact police at 911 or 919, the Central Detective Unit at 502-9991 or Crime Stoppers anonymously at 328-TIPS.