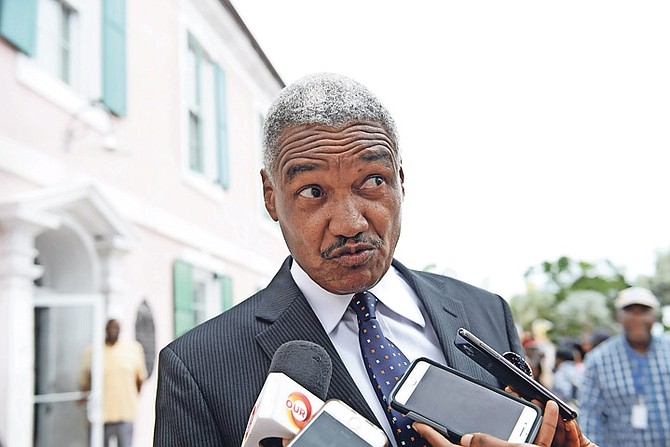 By NICO SCAVELLA
Tribune Staff Reporter
nscavella@tribunemedia.net
FORMER Bahamas Electricity Corporation Chairman Leslie Miller on Friday regretted the recent spike in electricity costs, calling on the Minnis administration to "do what is necessary" and consult "people who have some idea as to what needs to be done" to lower the price of electricity for Bahamians.
Mr Miller, in an interview with The Tribune, said the government should "stop reinventing the wheel" on the matter, claiming that the best course of action would be to consult its predecessors, himself included, on how to arrest the situation rather than continuing to "burden the Bahamian people with these outrageous damn BEC bills."
Mr Miller's comments came a day after Works Minister Desmond Bannister said that while it is unfortunate that consumers have seen a significant increase in their Bahamas Power and Light (BPL) bills because of "faulty machinery", the government cannot continue to absorb the utility provider's expenses.
Mr Bannister told The Tribune that BPL has a "huge legacy debt" and unfortunately the cost will have to be passed on to the public "directly or indirectly."
Mr Bannister's statements came after the Central Bank of the Bahamas revealed that BPL's fuel charge increased by 8.3 per cent to 13.7 cents per kilowatt hour (kWh) on a monthly basis, and by 49.7 per cent when compared to May 2016.
In a statement, BPL explained that an increase in bills for the month of May was also caused by its reliance on engines at the Blue Hills Plant, which uses more expensive fuel than the Clifton Power Station.
Mr Miller, who served as executive chairman of BEC – later to become BPL - until late 2015, regretted how there has been "no discernible change" in BPL's functionality since the Minnis administration came to office. He said the government should try reaching out to the relevant former government officials for advice.
"It's a new government now, they got to get themselves together, and sit down and those who were there before," Mr Miller said. "…No one ever consults the fellas who were there before to say 'well what is the situation'. Everybody comes in there believing that they're a genius, and that's a problem, and they listen to most of the foolishness that the people go and tell them, instead of really trying to get some objective views from those who would've been there who had a plan.
"But it's up to (the government). They in charge so whatever decision they make we got to live with, whether it's right or wrong. Just hope that it's in the best interest of Bahamians."
Mr Miller also said the onus is on Mr Bannister as the new "decision maker" for the corporation to "get the people around him who could give him sound advice (on how) to decrease the cost of electricity for everybody."
Notwithstanding that, Mr Miller said "simple, basic economics" could reverse the corporation's woes.
"You go with the most efficient engines that is out there, you go and put up the 128 megawatts of power at Clifton, or Blue Hills, wherever they want to put it," he said. "That alone is going to save you about $100m in fuel costs, that's how you get rid of the legacy debt.
"You pay down the legacy debt (with) the savings that you have and you pass 50 per cent of that savings onto the local consumers. That's what we had in mind. We had all the experts from all around the world. They were getting the engines out of Germany, and we had everything together. (Former prime minister Perry Christie) decided he wanted something else.
"Now this group got to decide what they want," he added. "They could go back to the drawing board and start from scratch and you got to go down that same road again, and not a damn thing is going to happen. Someone's got to decide to bite the bullet, and do the right thing by bringing in all those people who could make a contribution.
"Failure to do so, they going right back to square one, and we're going to be suffering this summer."
On Monday, Mr Bannister revealed that the new BPL board would be in place by Wednesday and the group's first priority is tackling the utility provider's "inability to keep the lights on."
In an interview with The Tribune, Mr Bannister confirmed that the new board has been selected, but said Cabinet will have to release the full list of names to the press. Nonetheless, Mr Bannister has repeatedly said he is "extremely troubled" that BPL has not been able to keep the lights on and provide reliable consistent electricity.