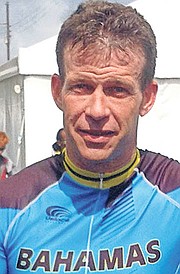 By BRENT STUBBS
Senior Sports Reporter
bstubbs@tribunemedia.net
CHRIS Curry didn't have time to celebrate his first thrill of victory as a Bahamas Cycling Federation National Independence champion when it was all turned into an agony of defeat after a protest revealed that he inadvertently took a wrong turn on the gruelling, 77-mile road race.
The race wrapped up a two-part series of the 44th annual nationals, which included a 16-mile time trials held on Saturday in the western end of the island that was clearly won by Commonwealth Youth Games representative Liam Holowesko.
Curry, along with runner-up Jay Major, apparently made a wrong turn during the first two laps of the race, but was able to ride with the front pelaton until they came through the finish line in a sprint in front of the Clifton Heritage parking lot in three hours, 27 minutes and 46 seconds ahead of Jay Major.
However, upon review, the final decision had Chad Albury in first place with Anthony 'Biggie' Colebrook second, Curry third and Major fourth.
"It is definitely bitter-sweet and one of the hardest things I have ever had to do," said Albury about lodging the protest. "As you know, Chris, Jay and all of the guys that were in the chase group are very good friends of mine.
"And while I know that their course deviation was not intentional, it still happened and was the means by which they made up the three-minute lead (after 40 miles) that Anthony and I had worked so hard to achieve."
Albury, who is en route to Bahrain where he works, said once he and Colebrook made their break away, they knew there was no way that the rest of the pack could have made up the difference in that short space of time.
Colebrook, who headed back to Grand Bahama where he works, couldn't agree more. "I felt good about it, but I didn't have enough mileage and training to prepare for it," he said. "But I'm glad that I came. Me and Chad had about a three-minute gap and there was no way we felt they could have caught us. "It turned out to be a heartbreaker for a few people, but it was good for me and Chad because we both worked so hard to get the breakaway."
A dejected Curry, however, said the decision was unfair. "I am extremely upset about the decision," he said. "We would have caught them anyway. I wasn't aware of any wrong turn. The official on the scooter was with us and said nothing to us about the turn so I just feel it's unfair."
Major, however, was quite content with the ruling and the final outcome. "I think it's fair. It's not all on us, but due to the circumstances, I think it's fair because we did cut the course and that helped us in some sort of a way," Major admitted.
"I feel it's fair under the circumstances. But I just feel that the federation needs to do better next time and not allow this problem to happen. There wasn't no official on the corner. When we saw the official turning the corner, that was when we went."
Albury lodged a formal protest with the federation after the race. After investigation along with the cooperation of the International Cycling Federation's technical director, federation president Roy Colebrook said they had to overturn the decision.
"I'm grateful to Jay, who came to me and told me what had happened. That shows his true sportsmanship," Albury pointed out. "At the end of the day, after talking to my teammates, family and friends, I had to make the decision to appeal based on the facts, the specific circumstances and the rules of the race."
Albury thanked president Colebrook, New Providence Cycling Association president Barron Musgrove and BCF's secretary general Keith Lloyd, members of the race committee, who did the right thing in overturning the decision. "I love this sport and I love my national teammates," Albury stressed. "Nothing will change that."
Except the final decision.
Lee Farmer, back in action after a near-fatal accident a couple months ago, was fifth and Patrick Paul got sixth. "Upcoming cyclists like Mr Curry, it wouldn't be a pleasant thing, but the rules are the rules," president Colebrook said. "I think the federation has to be seen as allowing justice to prevail. The rule is the rule. At the beginning of the race, the rules were clearly stated to everybody and that would have been expected to be followed.
"That didn't happen and so the decision had to be made. It may not be favorably to some people, but I think from time to time, we have made decisions in the federation and persons understand what it is. It was the right decision to be made and the fair decision that was made."
The infraction occurred at the round-a-bout on John F Kennedy Drive that leads into the domestic section of the Lynden Pindling International Airport. Instead of going north and exit near the Shell Gas Station, the cyclists headed west coming out of the new terminal, shortcutting the original course.
There was no confusion over who won the time trials as Holowesko easily won in 36.59 over Farmer's 38.04. Albury was third in 38.56, followed by Mark Holowesko in 39.41 with Patrick Paul rounding out the top five in 40.14.
"It was a pretty good event. I was coming of an injury, so I really didn't want to push it too hard because I also have to compete in the Commonwealth Youth Games," Holowesko said. "But I was really pleased with my performance out there."
Nobody was more pleased with their performances than Farmer. The former national champion survived a near fatal car accident while training three months ago, but indicated that while he wasn't at full strength, he was delighted to be back on the course and competing again.
Here's a look at the final results posted from the nationals:
77-mile road race
Overall men: 1. Chad Albury - 3:27.46; 2. Anthony Colebrook - 3:27.46; 3. Chris Curry - 3:27.46; 4. Jay Major - 3:27.46; 5. Lee Farmer - 3:27.46; 6. Patrick Paul - 3:27.46; 7. Justin Minnis - 3:37.46; 8. Felix Neely - 3:38.22; 9. Neil Morada - 3:42.34; 10. Tracy Sweeting - 3:49.10.
Overall female (47-miles): 1. Antiece Simmons - 2:12.05.
Overall juniors (24-miles): 1. Nathan Richardson - 48.20; 2. Richard McKinney - 56.25.
16-mile time trials
Overall men: 1. Liam Holowesko - 36.59; 2. Lee Farmer - 38.04; 3. Chad Albury - 38.56; 4. Mark Holowesko - 39.41; 5. Patrick Paul - 40.15; 6. Simon Lewis - 41.57; 7. Chris Curry - 42.02; 8. Jay Major - 42.59; 9. Anthony Colebrook - 43.58; 10. Neil Morado - 44.05; 11. Justin Minnis - 44.26; 12. Jermaine Mackey - 44.48; 13. Diago Smith - 46.24; 14. Secil Williams - 46.35; 15. Felix Neely - 47.07; 16. Wayne Price - 47.30; 17. Robert Whittingham - 47.40; 18. Roy Colebrook Jr - 50.58; 19. Brian Bethel - 55.41; 20. Claude Roberts - 56.59.
Overall women: 1. Cinta Shult - 48.21; 2. Antience Simmons - 53.42.'