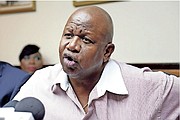 By SANCHESKA DORSETT
Tribune Staff Reporter
sdorsett@tribunemedia.net
ABACO residents, fed up with having to contend with frequent power cuts, have in some cases been without electricity for more than 24 hours at a time over the past several weeks.
When contacted for comment, Bahamas Electrical Workers Union (BEWU) President Paul Maynard called the frequent power outages in Abaco "disgraceful" and "unacceptable" as he urged Bahamas Power and Light (BPL) to "overhaul the island's protection system," which he claims has not been upgraded in 25 years.
His comments came after another power cut in Abaco that, he said, lasted nearly two days in some areas.
A spokesperson for BPL told The Tribune that a system fault, in addition to a car accident caused the most recent outage and said the utility provider is working "to eliminate the frequent power cuts on the island."
Meanwhile, Mr Maynard said the system in Abaco is so outdated and fragile that if someone happens to knock down one pole, the entire island will shut down.
"The transformer on the mainland that feeds Green Turtle Cay went down and when it did, it caused the power station to trip and the whole island went down," he said.
"When they finally found out what was wrong, it took crews up to 30 hours in some areas to get the issue fixed. So persons went down Saturday morning and did not come back up in some cases until late Sunday, even Monday. Then to make matters worse, when the power came up in some areas, a car knocked a pole and it tripped the island off again. We need a new protection system, it needs to be overhauled. We need a new study done because the minute something happens, instead of the trip being isolated to the nearest switch, the entire station shuts down. We have not had a protection system done since 1991 and it is sickening. They had no power the whole weekend, who does that to people? This cannot continue in New Providence and in Abaco."
Abaco residents expressed their disgust on BPL's Facebook page with some persons calling for a march to Parliament against the company.
Timothy Roberts, an Abaco resident and a journalist, told The Tribune that the past few weeks have been unbearable and the frequent outages are also affecting the island's tourism industry.
"It has been really bad for the last two to three weeks. There has been a particular issue in Green Turtle Cay, but we get sparse, vague information from BPL about what is going on. We were told last week that it was a control system issue that caused the last outage and it was a miserable three days without power. Then on Saturday there was an outage that lasted a few hours and then the power went out again after midnight and the power was on and off into most of Monday.
"In Green Turtle Cay, there has also been issues. In Coco Cay, where there are second home rentals, people left because they could not find a place that had generators. The water goes with the electricity for places, so persons could not bathe. There are larger issues in Abaco and people are frustrated."
Last month, Works Minister Desmond Bannister said he has "serious concerns" with BPL's ability to "keep the lights on this summer."
At the time, he said he is already "looking at new, alternative ways" of producing energy, including solar.