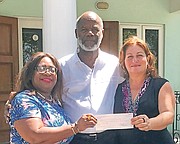 THE Zonta Club of New Providence recently raised and donated $10,000 to assist in the construction of the country's first transition home at the Ranfurly Home for Children.
The donation was part proceeds from Zonta's 'Tapas N Jazz' event. The ZCNP - in partnership with the Ranfurly Home - hosted the evening of fun and elegance earlier in the year to help generate much-needed funds to help get the non-profit children's home further to their target of building transition homes.
"This opportunity to partner with the Ranfurly Home in their mission to construct a transition home for young adults is in keeping with our mandate to empower and advance the status of women and children," said ZCNP President Claudine Farquharson. "So we were delighted to be a part of such a worthy venture and we look forward to continuing our support for this cause."
Transition homes are needed for children who would have lived in the Ranfurly Home but have to move out of the facility as they come of age. President of the Ranfurly Home Alexandra Maillis-Lynch said not many children who live at the orphanage have the back-up of family and security to help them ease into responsibilities associated with adulthood.
In the past, she said, it has proven to leave many of the children susceptible to bad influences.
"A transition home would give them that stopgap for two years where they would abide by certain rules that would go with the home and they will learn what it is to be an adult in the right situations that allows them to feel that they're a part of a family," she said.