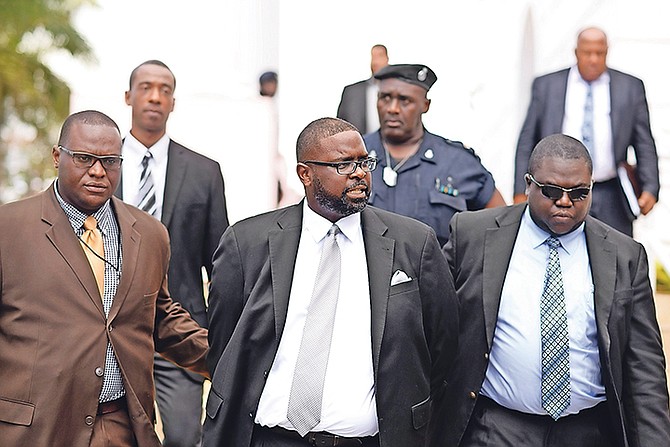 By LAMECH JOHNSON
Tribune Staff Reporter
ljohnson@tribunemedia.net
FORMER Environment and Housing Minister Kenred Dorsett appeared in Magistrate's Court yesterday accused of using his former ministerial position to extort and solicit $120,000 in bribes from Johnathan Ash.
The 46 year old of Winton Terrace was brought into the Nassau and South Streets court complex in handcuffs and was flanked by policemen for his appearance before Magistrate Samuel McKinney concerning nine criminal charges: a single count of misconduct in public office and four counts each of extortion and bribery.
Supporters gathered to see Dorsett as he was led away from court after the charges were brought against him. He was remanded to the Department of Correctional Services in Fox Hill, but is due in the Supreme Court for a bail hearing today at 1pm.
The allegations concern the purported exchange of funds in connection with work done by a heavy equipment operator to move debris from the New Providence Landfill following a massive fire at the site in March.
The extortion charges were brought contrary to Section 453 (1) of the Penal Code, Chapter 84 while the bribery charges were brought under Section 3(2)(a) of the Prevention of Bribery Act Chapter 88.
The misconduct in public office was brought contrary to common law.
It is alleged that Dorsett, while a public official between March 1 and May 9 of this year, demanded and obtained two payments of $10,000 and two payments of $50,000 from Mr Ash knowing he was not lawfully authorised to demand the same.
The ex-parliamentarian was asked whether he wished to be tried in Magistrate's Court or Supreme Court on these offences.
Dorsett elected the former and pleaded not guilty to the allegations.
It was then alleged that he, in his previous capacity between the same period at the sanitary landfill, "without lawful authority or reasonable excuse" solicited the amounts from Mr Ash "on your account of abstaining from performance or exercise of your asserted power as a minister of environment 'to stop' Jonathan Ash from working at the said sanitary landfill."
It was finally alleged that Dorsett wilfully misconducted himself as a public officer without lawful authority.
For the bribery and misconduct in public office allegations, Dorsett was not allowed to enter a plea to the charges as they are indictable.
Dorsett's lead lawyer, Wayne Munroe, QC, argued the numerous charges were not only duplicitous, but an alleged abuse of process.
He further questioned the charge of misconduct of a public official, claiming that it was not on the Bahamian law books.
Magistrate McKinney noted his legal objections for the record and indicated that the matter was adjourned to August 31 when it will be determined at that time if the bribery and misconduct charges will proceed directly to the Supreme Court through the presentation of a voluntary bill of indictment or a preliminary inquiry, in which a hearing would take place to determine if there is sufficient evidence for the case to be heard in the higher court.
Given the nature of the bribery and misconduct charges, Dorsett was informed that he would be remanded to prison in the interim but had the right to apply to the Supreme Court for bail.
Mr Munroe, who is assisted by Glendon Rolle and Valentine Grimes in Dorsett's legal representation yesterday, indicated that they were attempting to get an application within moments of the conclusion of the arraignment.
Before the adjournment, however, Mr Munroe made a complaint for the record that his client's cellular phones had been seized by police allegedly without a warrant for their seizure.
Outside of the court complex, Mr Munroe told the press lawyers would attempt to get Dorsett released from custody as early as Thursday afternoon or Friday morning, however they were unsuccessful in securing an early release.
"That's the immediate next step. There'll be a step in bringing action against the police for the detention of private property, breach of privacy, and I'll have to take instructions on whether we make complaints to the OAS (Organisation of American States) about this event that has just happened," Mr Munroe said.
He also said it was unusual an attorney was presented with his client's charge sheet on short notice though when questioned on possible penalties if a conviction is reached at the end of trial, he said he was not focused on that.
When asked about his client's emotional state, Mr Munroe said: "Well he's trying to make the best of it."
He also told reporters: "I tell everyone this is Bastille Day. When the French rose up, beheaded some people, and some of the people who were directing beheadings found themselves beheaded in the end by the same process that they put in place.
"I do not believe that they understand what they've done today."
Inspector Philip Davis is the police prosecutor in the matter.