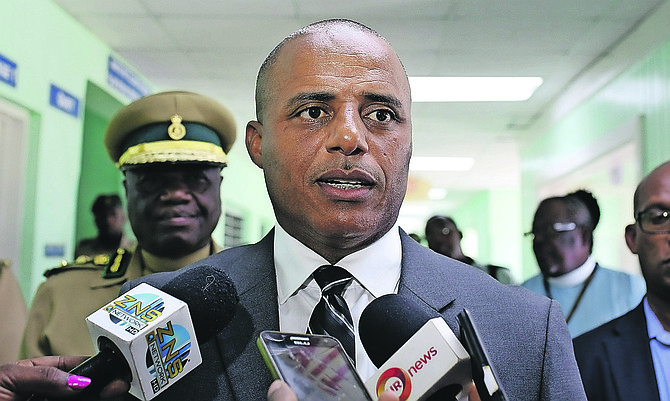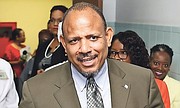 By RASHAD ROLLE
Tribune Staff Reporter
rrolle@tribunemedia.net
MINISTER of Health Dr Duane Sands suggested yesterday additional bombshell arrests may be on the horizon once police are able to gather evidence on the myriad of allegations brought to officials.
"I think the public will find that there will be a number of individuals who will be brought before the courts if the information that has been brought to us, in the opinion and findings of the commissioner of police, prove to warrant pressing charges," Dr Sands told The Tribune.
Some senior members in the Royal Bahamas Police Force have also said "stay tuned" as more bombshells are expected.
Meanwhile, National Security Minister Marvin Dames dismissed assertions from the PLP of a government-led witch hunt against members of the former Christie administration. Mr Dames said the claims are a distraction and he won't pay attention to them.
"Political witch hunt? I don't wish to get into those types of conversations," he said yesterday.
His comment came not long after Official Opposition leader Philip "Brave" Davis released an audio of himself criticising the context in which the new administration is seeking to hold officials of the previous administration criminally liable, one that follows pronouncements from the FNM on the campaign trail in which Bahamians were encouraged to expect "corrupt" politicians to be held accountable before the courts.
The PLP, which is seeking to recover from its historic general election loss in May and has been conducting assessments concerning this, is now devoting some of its attention toward warding off what could be a number of serious legal challenges. The Tribune understands Mr Davis, the PLP's leader, may call a special emergency council meeting next week to brainstorm and discuss ways of dealing with the matters. Meanwhile, the PLP is assembling a legal team.
Former State Minister for Legal Affairs Damian Gomez, a member of that team, said yesterday: "We regard this essentially as political posturing and a witch hunt. We're all committed. We have a team of lawyers to help and then there are going to be specific people addressing the cases."
For his part, Mr Dames said: "We said it all along on the campaign trail that part of our government's mandate was to deal decisively and aggressively with corruption throughout the country and this should not come as a surprise to anyone. We committed to it; our prime minister committed to it and we determined to use those agencies of government with the responsibility for investigating crimes and in this case, we're referring to crimes where there are anti-corruption related matters and we will allow the police to do their jobs unimpeded. We will continue to press on.
"Nothing has changed," Mr Dames said about concerns of a witch hunt. "When a matter is opened or is being investigated by the police force, the police has a responsibility to look for evidence and wherever they find evidence then they should do what comes next, which is bringing charges against those that may be implicated and you letting the courts take over from there.
"We're all about doing the job of the people," he said. "We committed that while on the campaign trail; we're determined. We will not be deterred and we will continue to press on. "This is what the people expect and this is what good governance ought to be about. Wherever it is found that public officials, while in office, are committing crimes, then they ought to be held responsible no matter where they sit or who they are connected to. That doesn't come before us. It ought not come before us. If we could go on the streets and pick up the young kid on the block for a joint and charge him without any public fanfare, why can't we do it anywhere else? I'm perplexed by the fact that people feel this is something that cannot happen. There are laws on the books and whenever there are laws on the books those responsible for carrying out the laws ought to do their jobs. It's as simple as that."
Mr Dames revealed that the administration considered establishing a Commission of Inquiry to investigate matters of abuse in public office and other possible crimes. However, he said, he believes such action would have ultimately proved fruitless since it would not hold officials accountable.
"There were a lot of people who were suggesting different pathways to investigating stuff like (corruption)," he said. "One was a Commission of Inquiry. I'm not a big fan of commissions of inquiries because I personally think they are a waste of money. They produce good sideshows, but that's the most. At the end of the day what do you have, a lot of interesting stories that will give you guys a bunch of news and headlines, but at the end of the day there's no accountability. We said as a government that we have laws on the books that can address issues where public figures go awry of the law. We suggested and recommended that the police be allowed do their work. Very shortly though we will be coming with legislation that will cause an autonomous anti-corruption agency to be established. While we wait the introduction of such a Bill, we felt strongly that we have laws that could deal with these issues in the interim."