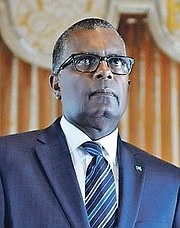 By RASHAD ROLLE
Tribune Staff Reporter
rrolle@tribunemedia.net
WHEN Former Environment Minister Kenred Dorsett was arraigned on bribery and extortion charges Thursday, few supporters of the Progressive Liberal Party were there to rally behind him, a fact that Senator Fred Mitchell regretted in a meeting of the PLP's liberal caucus Thursday evening.
"Today's arraignment of Kenred Dorsett, no PLPs present," he said. "Guy walks in by himself into the court. Why didn't we mobilize his branch? All those people who were on the back of the truck just a few weeks ago and then of course where were we? I happened to just be away, but I thought to myself, nearly 40,000 people voted for the PLP in the last election and we can't get 20 people out there standing for this man who served us for the past five years and is a part of your generation? And that's what I mean by politics being a people's business. No one will pay any attention to the PLP unless it can produce bodies. Politics is a thankless task. It's a volunteer task and it's a hard task."
Earlier, Mr Mitchell had told the PLP group that politics "requires their time" and their physical presence on the frontlines.
"This is moreso for people who are under 30," he said.
Mr Mitchell described himself as being exasperated by the kind of conversations that take place in PLP WhatsApp groups.
"It seems we're picking on one another, but not going out and doing the physical work which a political party requires."
Mr Dorsett is accused of using his ministerial position to extort and solicit $120,000 in bribes from Jonathan Ash.
He was remanded to the Department of Correctional Services Thursday on nine criminal changes, including a single count of misconduct in public office and four counts each of extortion and bribery.
Mr Dorsett, on Friday, was granted $50,000 bail by the Supreme Court with two sureties.