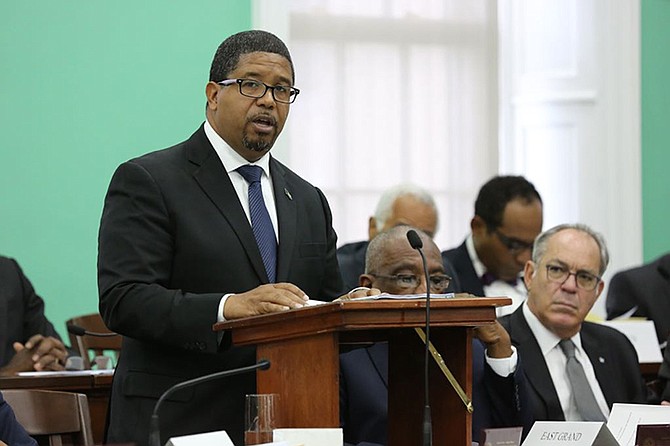 By RASHAD ROLLE
Tribune Staff Reporter
rrolle@tribunemedia.net
THE mortgage relief programme, which the Christie administration said helped at least 441 people, has not performed as well as expected and will have to be reviewed, Finance Minister K Peter Turnquest said.
"We are beginning the process of reviewing that effort and will have more to say in the next few weeks," Mr Turnquest told The Tribune over the weekend.
"What is fair to say is that the programme has not performed as well as it was expected to and thus, as a part of the overall review of finances, we will have to consider the cost vs benefit of the programme outside of a structured financial agency."
In March, then State Minister for Finance Michael Halkitis said six banks participated in the scheme and 441 people were enrolled in the programme.
Those people were able to have their loans completely restructured or were in the process of having this take place, Mr Halkitis said at time.
One borrower was able to reduce their monthly mortgage payment from $1,600 to $750 while another borrower saw their interest rate reduced from 8.25 per cent to 5.25 percent, he had said earlier.
Mortgage relief was a key pledge of the Christie administration before the 2012 general election, but the programme the administration implemented early in its term underperformed, leading former Prime Minister Perry Christie to admit in May 2013 that only four or five homeowners were expected to receive assistance at the time.
In March, Mr Halkitis said this was due in large part to the significant level of consumer indebtedness that applicants owed to car companies, furniture stores by way of salary deductions.
The Christie administration retooled the initiative in 2016 in an effort to help more people.
To have been eligible for the Christie administration's mortgage relief plan, borrowers had to have been more than 90 days past due as of May 1, 2016. Their property would have to be located in the Bahamas and owner-occupied up to duplex status, and their current outstanding mortgage balance could not have exceeded $500,000.
Borrowers had to agree to full disclosure, to restrictions on incurring additional personal debt and been committed to allowing no other salary deduction outside those in place at the time of the restructuring.
In 2016, the Christie administration allocated $20m to banks over a four-year period as a financial incentive to help them help as many delinquent borrowers as possible.
The number of Bahamians with delinquent mortgages is said to be in the thousands.