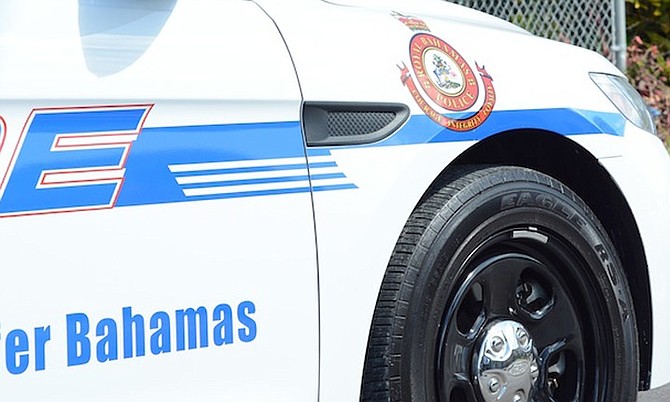 By DENISE MAYCOCK
Tribune Freeport Reporter
dmaycock@tribunemedia.net
TWO suspected boat thieves from Grand Bahama were caught by police in Great Harbour Cay over the weekend aboard a 30ft Rybo runner vessel stolen from a residence in Freeport.
The two men were in the process of taking the vessel apart and stripping off the tower when police officers were able to find them at a location, with the help of a tracker installed by the boat's owner.
"If they had another hour, I would never see my boat again because they had taken off half of the bolts of the tower," said boat owner Larry Nelson of Freeport.
The thieves had already stripped the vessel of its outriggers and control box which they threw overboard while en route to Great Harbour Cay where they were eventually tracked and caught.
"They would have ditched that (the tower), and then they would have been off. So, I was very fortunate that the police were so quick in getting to it," Mr Nelson said.
The men - one of whom is a resident of Hawksbill in Grand Bahama - are in police custody and are expected to be charged in court this week.
Sometime around 4.08am on Saturday while the Nelsons were asleep, thieves stole their 30ft Rybo Runner Awesome Fisherman vessel, with two 250hp Yamaha engines, docked at their home near the Xanadu Hotel.
According to information gathered from the tracker, the boat arrived in Great Harbour Cay in the Berry Islands around 5.38am. Sometime around 10.30am police were able to discover the vessel's location and make the arrest.
While it is the first time this has happened to Mr Nelson, he said that boat theft is a "serious" problem in The Bahamas.
Two weeks ago, while in Hope Town, Abaco, Mr Nelson claimed his friend's 29ft boat was one of four vessels stolen on the night of June 24.
His friend's boat was found that morning, and another - a 35ft Jupiter - was found a week later in Jamaica, he claimed.
Mr Nelson - who found himself in the same predicament two weeks later - said he did not hear anything because his windows were shut and his air-conditioner was on that night.
"I live near Xanadu, and they just shot right out to the ocean, but I had a tracker on my boat, thank goodness," he said.
"Before I walk out of my house in the mornings, I look to make sure the boat is out there, and it was gone."
After reporting his vessel stolen, Mr Nelson went up in a private plane searching for the boat. He got within 10 miles of Great Harbour Cay but decided to return to Grand Bahama.
"I just miss seeing it over there," he said.
Mr Nelson believes the boat thefts will hurt tourism and stressed that stiffer penalties should be handed down on perpetrators.
"It is not only bad for the boating community here, but it is bad publicity for the island. Boaters from the United States would not want to come over here in their boat and to have to worry about it getting stolen. It just hurts tourism drastically.
"So, the judges need to start doing something serious when these guys get caught; they need to start serving some time.
"I am not a rich man, so my second biggest investment is my boat; and If I had lost that I would never have owned a boat again in my life," he said.
"The judges need to realise that this is a very serious matter. It isn't like stealing something from a grocery store. It is very serious stuff, and people can be shot over this."
Mr Nelson estimates the damage to his boat to be around $10,000.
"They took my outriggers off and ditched them somewhere, so they are completely gone; they took my control box from the tower that has the steering wheel and throttle in it, and they cut all the cables and took the box off and threw it overboard."
With his tracker, Mr Nelson was able to locate and retrieve the control box on Monday.
"I went to the last place my tracker showed where it was and dived up the box and the controls, but the controls are all messed up, and I would have to get a new one. But at least I got the box that was custom-made for the tower that would have cost me a fortune.
"So I got some of the things back, but if it were another hour they would have taken the whole top off, and they would have been gone," Nelson said.
Boat thefts are prevalent in the northern Bahamas, especially in Abaco, Grand Bahama, and Bimini. The stolen vessels are said to be used for either human or drug smuggling.
The thefts are particularly prevalent during March through the second week in August when boaters visit. There is a lull during the third week in August through November, The Tribune was told.
In Abaco, the residents are very concerned about the issue because the island is dependent on tourism.
Abaconians feel that the current legislation in place does not address the problem. They believe that penalty of a $300 and a $600 fine is not a deterrent and have called for stiffer penalties.