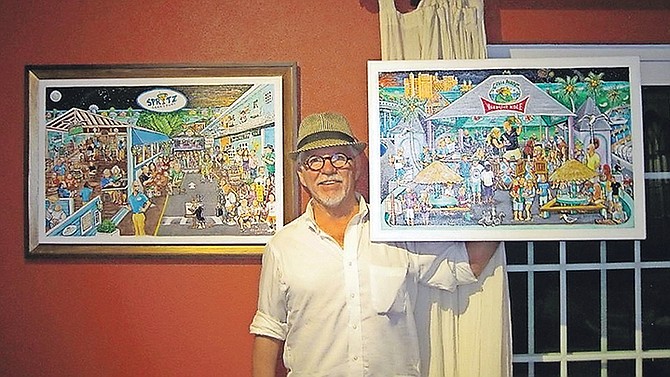 By DANIELLE BARNES
dbarnes@tribunemedia.net
After being unemployed for over a year, popular local musician and artist Steve "Too Loose" Holden had to face yet another challenge - an unexpected medical condition which led to mounting treatment costs, but which ultimately restored some of his faith in life.
A few weeks ago he was diagnosed with retinal detachment. He started feeling the symptoms as he was working on a painting commission. He described it as a darkness creeping up in the corner of his right eye.
After going online to research his symptoms he came to the conclusion that he was suffering from optic neuritis, an inflammation of the optic nerve which is usually temporary and does not require surgery.
However, a week later his symptoms had not gone away. In fact, they had become more pronounced. He realised that his condition may be more serious than he originally thought, so he went to the Princess Margaret Hospital's Eye Clinic for testing.
There, doctors discovered that he was suffering from retinal detachment.
Retinal detachment is a serious eye condition that occurs when a layer of tissue at the back of the eye pulls away from the tissue around it. This can result in permanent vision loss if not treated right away.
He was scheduled for surgery at PMH, but the procedure was delayed several times. Steve decided to take matters into his own hands. He contacted the Bascom Palmer Eye Clinic in Florida and made an appointment for surgery.
But the artist faced numerable obstacles during this time. Being unemployed, he lacked the funds to fully pay for the surgery.
He went on Facebook and documented his roller coaster journey with no intent to gain money. Little did he know that his friends who followed his story would become his biggest support. Steve said he was overwhelmed with the outpouring of love, concern and donations he received
He was able to buy a plane ticket and one of his friends created a Go Fund Me page which raised more than $6,000. Steve describes this stage in his life as a moment of "angels intervening".
"Bascom Palmer's charge for detached retina surgery is $13,000, but since I am uninsured and a self-pay, they dropped it down to $8,848," he explained.
"Thanks to my sons and my wonderful friends, we were able to pay cash the morning of the surgery."
Steve told The Tribune that the doctors at Bascom Palmer were pleased with the outcome.
"I was in and out in little over an hour…no pain whatsoever," he said.
A gas bubble was inserted to add pressure to the laser-repaired retina and he had scar tissue removed.
Steve recently had a check-up to remove the bandage. The darkness which had clouded his eye for the last month had dissipated, and he is now on his way to a successful recovery.
"I am optimistic...funny how things work out," he said. "A month ago I was manically depressed, angry, blaming others for my minor misfortunes, and this experience, although frustrating at every turn, has somewhat restored my faith, optimism and happiness."
Steve is expected to be back on his feet in six to eight weeks. Until then, he will remain in Florida with his two sons.
He still finds himself in a financial hole. However, he said some of his fellow musicians are looking to put together a medical fundraiser upon his return.
Steve, who has performed all over the Bahamas for the past few decades, has been described as an 'island Renaissance man'.
He paints portraiture, caricatures, cartoons and murals, is an accomplished photographer and a jazz artist.
His murals can be seen in public spaces throughout the Bahamas, including at the Jokers Wild Comedy Club at Atlantis and the Pirates of Nassau Museum.