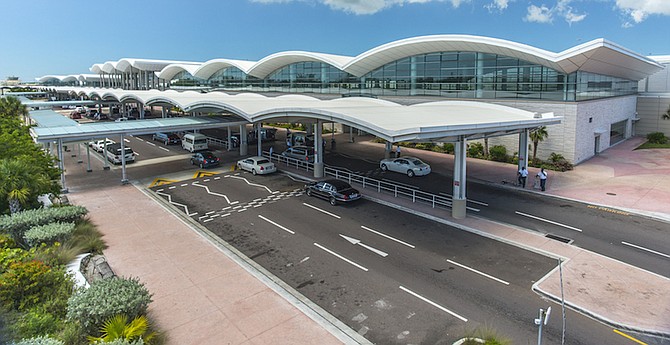 By RICARDO WELLS
Tribune Staff Reporter
rwells@tribunemedia.net
WITH heightened security measures set to take effect today, Tourism and Aviation Minister Dionisio D'Aguilar Monday said he is certain airport officials across the country are "ready" to administer new screening techniques, but admitted waiting times could be an issue.
Starting today, travellers heading to or through America will face increased screenings, with new policies calling for enhanced checks of electronic devices and better deployment of canines that detect explosives.
On Monday, Mr D'Aguilar revealed "dry-runs" of the new security measures yielded extensive waiting times for many persons, leaving a host of travellers "extremely aggravated."
The Free Town MP added that although "grossly time-consuming," two separate practice runs were approved by American Transportation Security Administration (TSA) officers present in The Bahamas.
Mr D'Aguilar said the outcome of those rehearsals prompted local officials to encourage travellers to arrive at the airport at least one hour earlier than the normal two hours for international departures.
When the new security measures were announced last month, Mr D'Aguilar suggested the move could lead to the need for more screening time.
He, at the time, proposed the normal two-hour airport arrival time could expand to as much as three hours, or even more if need arose.
"I have warned for weeks, this process will take a lot of time and patience and the time has arrived," Mr D'Aguilar told The Tribune Monday.
"We are looking at an extra hour, that on top of times tossed around in recent weeks. We had a run through on July 11 and Sunday (July 16). Based on those dry-runs, we can now say that travellers are in for long waiting times.
"The new screening measures, some of them are time-consuming. For example, there were selective pat-downs that had persons in line, waiting up to an hour to proceed.
"When you take into consideration the pat-downs, screening of electronic devices and all the regular checks, we had persons in line that were extremely aggravated by the entire process, but this is what is mandated and we have to carry out these measures," he added.
In a statement last Tuesday, the Nassau Airport Development Company (NAD) called for travellers to the US to arrive an estimated three hours ahead of their departure times and said those travelling with electronics larger than a cell phone in carry on or checked luggage should expect more stringent screening measures.
NAD's statement read: "The Bahamas and 104 other countries globally are impacted by these new security measures. The enhanced security measures include but are not limited to: enhancing overall passenger screening; conducting heightened screening of personal electronic devices; increasing security protocols around aircraft and in passenger areas and deploying advanced technology, expanding canine screening, and establishing additional pre-clearance locations globally."
Meanwhile, Mr D'Aguilar on Monday said aviation officials plan to have more staff on-hand to deal with expected back-ups and ease tensions if they do arise.
He said procedures were in place at all international airports throughout the country, except the Treasure Cay International Airport in Abaco where the Minnis administration was still assessing the needs of heightened security measures.
According to Mr D'Aguilar, the Abaco airport operates one international flight a day. As a result, the government was still weighing the cost-effectiveness of the move to add the needed screening technology.
Mr D'Aguilar had previously said equipment upgrades could cost the country $50,000 to $75,000 per apparatus, per airport.
In addition to New Providence, Abaco, Exuma, Grand Bahama and Eleuthera, there are occasional direct flights from the US into Long Island, San Salvador and Bimini.