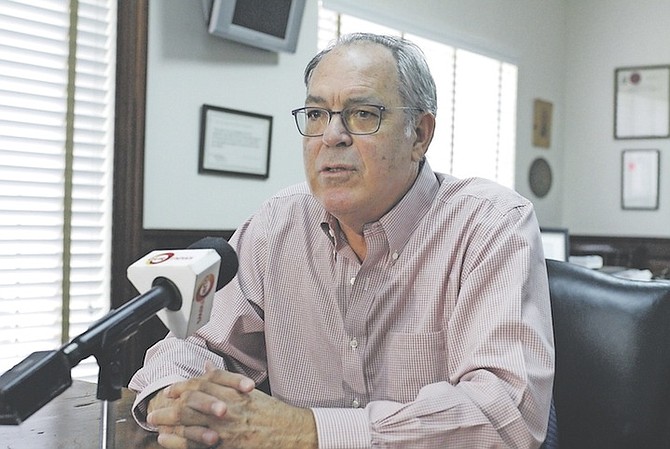 By RASHAD ROLLE
Tribune Staff Reporter
rrolle@tribunemedia.net
MORE than 3,000 people were granted citizenship between 2012 and April of this year, according to statistics Financial Services and Immigration Minister Brent Symonette gave The Tribune.
There were 3,331 citizenship approvals during the period in question and the rate appeared to increase toward the end of the last Christie administration.
A total of 1,969 people were approved for citizenship between 2012 to 2015; 789 people were approved in the year 2016 and 573 received citizenship between January and April of this year alone.
In 2012, Mr Symonette released comprehensive statistics on the number of citizenship and permit applications approved by the last Ingraham administration, but his revelations yesterday offer the first glimpse of the approval rates under the Christie administration.
Regarding approvals for permanent residence permits, work permits, spousal permits and permits to reside, Mr Symonette said as far as he is aware numbers for these over the past five years were "fairly consistent" with prior years.
Work permits, for instance, averaged between 1,000 to 1,500 per month, he said.
Mr Symonette is seeking to take stock of the backlog of citizenship applications even as his government plans to establish a board that is empowered to grant or deny citizenship applications, devolving a power that has long lied with Cabinet.
Such a process would not only guard against potential political interference but could also speed up the pace at which applications are considered since former Foreign Affairs and Immigration Minister Fred Mitchell has said the practice has been for Cabinet to consider applications only when "time permits."
Said Mr Symonette yesterday: "We constantly hear it's a backlog, but I'm trying to determine the nature and size of the backlog, whether it's 1,000, 10,000 or more or less. "Senior staff can't help me. The Immigration Department is still very manual. A computerised system exists, but the management of the computer system is not as developed as it should be."
This year alone, Mr Symonette said, the Department of Immigration has handled 15,000 applications for citizenship and other kinds of permits.
According to statistics he released in 2012, from May 2007 to December 2011 the Ingraham administration approved 2,590 applications for citizenship, 1,710 permanent residence permits, 2,020 spousal permits and 12,678 permits to reside.
During the recent budget debate, Prime Minister Dr Hubert Minnis said his government will establish an independent board to review citizenship applications to ensure politicians don't abuse the matter.
Legislation allowing this "is subject to Cabinet discussions" but may be ready by the time Parliament resumes later this year, Mr Symonette said.
"I'm sure the president of the United States doesn't sit or the prime minister of Great Britain doesn't sit on every immigration application to see whether or not to grant citizenship to a person that does apply," Mr Symonette said during the budget debate earlier this summer.
In the past, Mr Mitchell expressed support for establishing a commission to grant citizenship even though it's unclear if this was a part of the Christie administration's legislative agenda.
Mr Mitchell said a proposed commission "would receive the application, examine whether the individual meets the criteria set down in the Constitution and the Bahamas Nationality Act and determine if the person should be granted citizenship."
Under the Bahamas Nationality Act, the minister with responsibility for immigration must examine whether applicants meet the constitutional and legal requirements for citizenship and must grant them citizenship if they do.
"The practice has evolved by convention in this country that 'minister' in the statute law means the Cabinet and the final adjudication on these matters therefore sits before the Cabinet," Mr Mitchell said in 2015. "From a time point of view, the question is how often can you get before a Cabinet and how many applications can be considered at a time? I assure you not many times and not often."