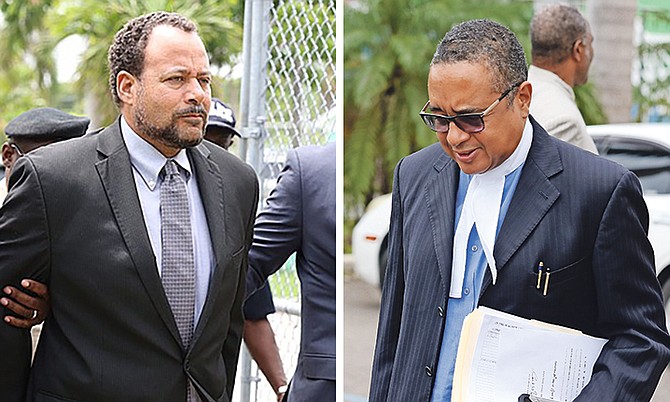 By LAMECH JOHNSON
Tribune Staff Reporter
ljohnson@tribunemedia.net
FORMER Progressive Liberal Party Senator Frank Smith appeared in Magistrate's Court facing 15 criminal charges on Friday morning concerning the alleged solicitation of $65,000 in bribes from a woman he is said to have assisted in getting a contract.
The 50-year-old Eastern Road resident stood before Chief Magistrate Joyann Ferguson-Pratt facing 13 counts of extortion, and a count each of attempted extortion and bribery.
The extortion and attempted extortion charges were brought under section 453(1) of the Penal Code while the bribery charge was brought under sections 4(2)(a) & 10(b) of the Prevention of Bribery Act.
It is alleged that he, between April 2016 and April 2017, in respect of his duties as a public officer, demanded and obtained $5,000 per month from Barbara Hanna, knowing that he was not lawfully authorized to do so.
He is also alleged to have attempted to extort another $5,000 from Ms Hanna in May 2017.
Concerning the bribery charge, it is alleged that he solicited $5,000 a month from Hanna for aiding her in getting a contract with the Public Hospital Authority.
Smith pleaded not guilty to all of the allegations during his arraignment as his wife Sharlyn, father-in-law Sir Franklyn Wilson and mother-in-law Lady Sharon Wilson, along with other family, friends and PLP supporters, including former State Minister for National Security Keith Bell, looked on.
Damian Gomez, QC, lead lawyer for Smith, questioned why the witness list was not made available to the defence.
Anthony Delaney from the Office of the Attorney General said the non-disclosure of the witnesses were the result of a concern for the possibility of witness intimidation.
Mr Gomez asked for a copy of the bank statements from the virtual complainant in the matter.
The chief magistrate said she has no doubt that the case against Smith will be disclosed, but wanted to assure that there is full disclosure to the defence.
She adjourned the matter to August 18 for a status hearing.
However, given the nature of the allegations, she could not consider bail and remanded him into custody in the interim.
However, she advised him of his right to apply for bail to the Supreme Court.
Mr Gomez, and assisting lawyers, Glendon Rolle and Valentine Grimes, appeared before Supreme Court judge Senior Justice Stephen Isaacs within an hour of the arraignment asking for Smith to be released from custody ahead of trial.
The judge granted the application, setting bail at $50,000 with two sureties.
Once his sureties are approved by the court and the bond signed, the former PHA chairman will be released from custody.