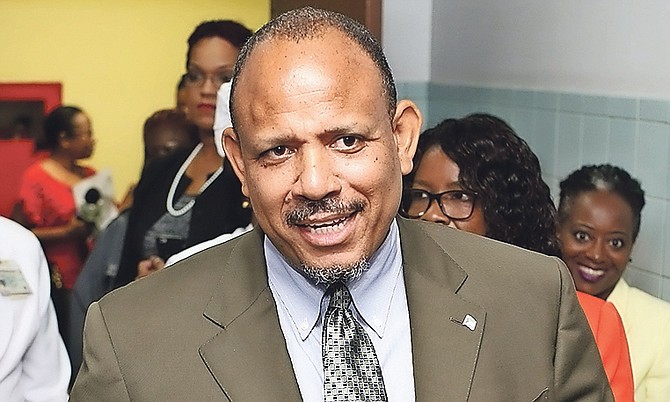 By NICO SCAVELLA
Tribune Staff Reporter
nscavella@tribunemedia.net
HEALTH Minister Dr Duane Sands yesterday shot down any notion that the Minnis administration is currently considering the decriminalisation of marijuana or legalisation of the drug for medicinal or recreational purposes.
Dr Sands, during a press conference at police headquarters, said that while the government will be "objective and open minded" on the issue, it does not think that "the Bahamas should lead the world in this particular exercise."
Dr Sands' comments came during a press conference at the Paul Farquharson Conference Centre for the release of the Bahamas National Household Drug Prevalence Survey 2017, a survey focusing on drugs and at-risk youth ages 18-25.
The event was held in collaboration with the United States Embassy, the Inter-American Drug Abuse Control Commission (CICAD) and the Organisation of American States (OAS).
According to the statistics, lifetime use prevalence for marijuana for males and females between 12-24 years were 18.7 per cent and 6.2 per cent respectively; 22 per cent and 9.9 per cent for males and females respectively between the ages of 25-44 years, and 19.4 per cent and four per cent for males and females respectively between the ages 45-65 years.
Additionally, US Chargé d'Affaires Lisa Johnson said the results revealed young people in the Bahamas do not believe marijuana is a drug. Ms Johnson also said young people do not associate marijuana use, sales, or possession with violent crime or with addiction.
Dr Sands, during his remarks, noted many countries have liberalised marijuana for medical and recreational purposes. However, he said, such a decision, "however tempting as it might be," should not be "adopted or embraced by the state without a dispassionate objective review of the evidence which accepts new evidence that has been rigorously validated while discarding dogma or tradition which has been discredited or disproved."
"Every week my ministry is in receipt of requests to consider medical use of marijuana, or occasionally being asked to opine on the current judicial or law enforcement view of drug use," he said. "Let me say that we are minded to be cautious, prudent and careful, (and) we are also minded to be objective and open minded. But we do not feel that the Bahamas should lead the world in this particular exercise."
In 2013, St Vincent and the Grenadines Prime Minister Dr Ralph Gonsalves asked CARICOM to discuss the medicinal and other uses of marijuana. At the time, Mr Gonsalves said it's "high time" that CARICOM address the matter, regionally, in a "sensible, focused (and) non-hysterical manner."
That same year, then Minister of State for Legal Affairs Damian Gomez said the Bahamas is more conservative than many other countries in the region on the use of marijuana. Mr Gomez also said reducing the number of years for the possession of small amounts of marijuana in the Bahamas would unclog the criminal justice system.
In February 2014, after Jamaica announced its intention to decriminalise marijuana for medical purposes, then Minister of Foreign Affairs Fred Mitchell said the former Christie administration would study the matter and was open to discussing the issue.
And last year, Democratic National Alliance (DNA) Leader Branville McCartney said he believes marijuana should be decriminalised, and also suggested that marijuana should be legalised for medicinal purposes.
However, Dr Sands said the country's position on the issue should not be based upon international norms, but should instead be reflective of a sound, objective decision-making process and the potential impact it may have on society.
"Our National Drug Council finds itself in need of reinvigoration and repurposing, and we are doing exactly that," he said. "Our intellectual honesty to examine and dissect the events, decisions and trends ought not to be based on intransigents, or stubbornness. But nor should we flow passively as unprincipled and uninformed passengers on the bus of international group think.
"Effective and appropriate public policy does not require universality, unanimity, nor absolute proof. It should, however, be based on truth or evidence, however uncomfortable, that has been validated and which is good for our people. It requires that we be open to dialogue, to new knowledge, and to strategies which effectively and positively impact our citizens and our communities."
Survey
Meanwhile, the survey results showed that lifetime use prevalence for alcohol was 74 per cent (78 per cent males, 71 per cent females); 21 per cent (33 per cent males, 9 per cent females) for tobacco; one per cent (2 per cent males, 0.4 per cent females) for cocaine and 0.7 per cent (1 per cent males, 0.5 per cent females) for crack cocaine.
The beedy/bidi cigarette had a cumulative lifetime use prevalence of approximately five per cent amongst Bahamians between the ages of 12-65.
Lifetime use for inhalants, tranquilizers, stimulants and analgesics were all less than one per cent, according to the statistics. However, the survey summary noted the lifetime use prevalence of "emerging drugs" such as the leaf "grabba" was three per cent, e-cigarettes at two per cent, hookah pipes at two per cent and the alcoholic drink known as "lean" at two per cent.
Conclusively, alcohol, tobacco and marijuana were the more popular drugs. When compared to the last household drug prevalence survey in 1991, lifetime use of alcohol and marijuana remained the same while lifetime use of tobacco, cocaine and tranquilizers decreased.
"Drug monitoring, prevention and education efforts should be strengthened, especially for alcohol, marijuana and the relatively new drugs," the survey's summary said.
Data collection was done using multi-stage sampling techniques on New Providence, Grand Bahama, Andros, Eleuthera, Exuma and Abaco, according to the survey summary. Randomly chosen individuals within each selected household were interviewed by trained enumerators using a standardised CICAD questionnaire on computer tablets with Survey To Go software.
Only persons 12 to 65 years were eligible for the survey.
A total of 2,533 interviews were completed for the survey. Approximately half (52 per cent) were female with a median age of 36 years.