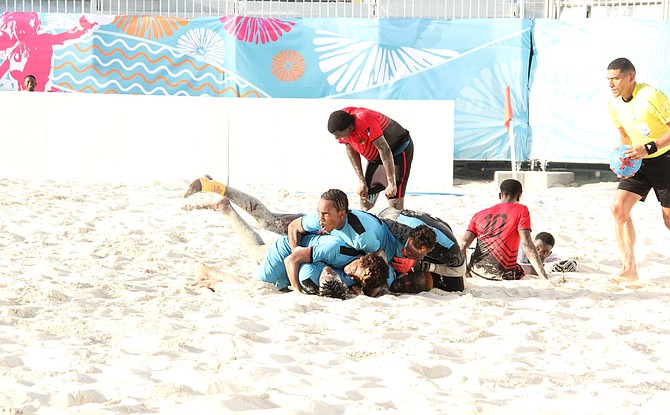 By RENALDO DORSETT
Tribune Sports Reporter
rdorsett@tribunemedia.net
WITH regulation time on the brink of expiration and the bronze medal on the line, Bahamas team captain Phieron Wilson provided the dramatic finish to secure a place in history for the men's beach soccer side at the 6th Commonwealth Youth Games.
Chadwick Russell's shot was blocked by keeper Jernya Oscar, but Wilson was there to corral the rebound and scored the go-ahead goal with eight seconds remaining to lift the Bahamas to a 5-4 win over Antigua and Barbuda to win the bronze medal at the national beach soccer stadium on Saturday.
Wilson and Jonathan Richardson each scored two goals for the Bahamas and goalkeeper Michael Butler added another.
"We came together as a group of brothers, we weren't training for that long, maybe three months at the most, and we expected a gold, but it still feels good to come away with a bronze with my brothers," Richardson said.
He finished the tournament second to Wilson among the team's top goal scorers.
"I just came out and I was mainly thinking about my team and my country, it happened to work out for us and we came out with a win, he said. "In beach soccer, going into the third period you have to stay mentally tough, we were able to do that and we came away with the win. Our song is 'who let the dogs out' and that's how we fought."
Antigua struck first on a goal from D'Jaire Sheppard and moments later Javorn Benjamin caught Butler out of position and beat him to the ball for a 2-0 lead with three seconds left to play in the first period.
Butler got the rally started with his goal at the 8:45 mark in the second period and Wilson scored the equaliser with 7:33 left in the period.
Tevin Lewis drew a penalty shot which was blocked by Oscar but Richardson was in the right place at the right time for the rebound and his first goal gave the Bahamas a 3-2 lead with just under four minutes left in the second.
Antigua's Jajuan Williams subbed into the game and on his first touch used a great individual effort to tie the game at 3-3 with 2:29 left and the teams took that score into the final frame.
Richardson opened the scoring in the third with his second goal to give the Bahamas a 4-3 lead with 7:44 left in regulation.
Sheppard's second goal tied the game at 4-4, setting the stage for Wilson's late match heroics.
Senior national team member Dwayne Forbes served as head coach and said his team showed great resilience throughout the tournament fighting through their early mistakes.
"The whole tournament was very tough and hats off to the boys for closing it out like this and getting the job done. Unfortunately we had to leave it up to the last minute and had to come from behind in order to win. What caused us to be playing for third place is we were beating ourselves, we made silly mistakes in a few games and in every game, there were three or four bad mistakes that almost cost us the game. Even in the bronze medal game, there were even more mistakes, but we were able to come through."
The team opened with a 5-2 loss to St. Lucia, in a game that was tied at two late in the third period before the Bahamas surrendered three quick goals. They followed with a 7-3 win in the first matchup against Antigua before a 4-2 loss to Trinidad and Tobago in the semifinal.
"It's a big win for the programme, even though it's not what we expected but it's a great start at the youth level with a Commonwealth Youth Games medal," Forbes said, "They were fantastic, this team is fit so that wasn't an issue or an issue of any team being better than us, we just made mistakes but fortunately we were still able to medal and we can only look forward to improving the overall programme in the future."
St. Lucia went on to take the gold medal with a 6-2 win over Trinidad and Tobago.
The Bahamas' women's team was less fortunate and finished in fourth place after a 3-1 loss to Turks and Caicos in the bronze medal game.
After both teams were tied with a goal apiece, Turks and Caicos took a 2-1 lead into the third period on a goal from Sydney Campbell.
Campbell added another goal, early in the third period to take a 3-1 lead at the 10-minute mark.
Team Bahamas suffered a 15-2 loss to Jamaica in their opening match. Shorthanded after that match, the team played back-to-back matches where they lost on penalties. In the first match against Turks and Caicos, the Bahamas lost 2-1 (3-3) and in the semi-final they lost to Trinidad and Tobago 2-1 (5-5).
"I guess we were a bit tired from the other days of competition but we gave it our all we came away with fourth place. I'm a bit disappointed because I know we could have given a little bit more. We trained hard for this but we have the upcoming years and we're looking forward to it. We got tired and we have limited subs because after the first game we lost a lot of people so we just had to work with what we have," team member Hannah Darville said, "The experience was good it was some of our first time national team and that's why were so confident and so ok with our performance because it was our first national team."