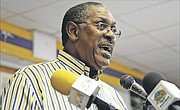 PROGRESSIVE Liberal Party (PLP) Chairman Bradley Roberts has accused the Minnis administration of being spiteful towards civil servants based on perceived political affiliation.
He said he attended the funeral for Dr Baldwin Carey on Friday and did not see Prime Minister Dr Hubert Minnis present.
Dr Carey was a gynaecologist who died of a heart attack earlier this month.
He also served as a consultant at the National Insurance Board (NIB) and was one of several employees who were instructed by letter in late May to take vacation leave as the agency prepared to undergo an audit.
At the time, a government official said this did not mean the employees were suspected of any impropriety or had done anything wrong.
However, Mr Roberts said Dr Carey was shocked and deeply saddened by the contents of the letter.
He said more than two months have gone by and there has not been an announcement of the future of the remaining NIB executives.
Mr Roberts said the treatment of the NIB employees is "reminiscent of the unceremonious summary dismissal of several employees at the Bahamas Information Services shortly after the 2007 election victory of the FNM."
He added: "The casualties (were) Luther Smith, Earlin Williams, Al Dilette and Dudley Byfield. The motivation for the summary dismissal could only have been political. As fate would have it, Dudley departed this life shortly thereafter.
"We must find a way as a country to move beyond the divisiveness of politics in nation building and certainly in public administration.
"The priority of any incoming government must be the continuity and stability of the public service. These public officers are tasked with executing the policies of the government of the day and those agencies must not only be, but must seen to be neutral at all material times.
"Dr Carey played an important role in the implementation of NHI and in protecting NIB and its revenue against fraud and shrinkage from unscrupulous individuals in the filing of medical and industrial injury claims.
"Dr Carey was not a politician. He was never in the public domain bashing the policies of the FNM while enjoying a big fat government consultancy the way (Minister of Health) Dr Duane Sands did for many years. It never occurred to the PLP to spite Dr Duane Sands in the manner the current FNM government is behaving. They are a disgrace and have much to answer for.
"(Press Secretary) Anthony Newbold was (wary) of the PLP while he worked at ZNS. At no time did the PLP government consider taking punitive acts of reprisals against Mr Newbold or Dr Sands. We must be tolerant of dissent and build our democracy.
"We must find a better way to build our country and make use of the best talents available without the rancor of politics.
"There are very important lessons to be learned in the way the PLP government treats public servants versus the FNM. Dr Minnis should take notice," Mr Roberts said.