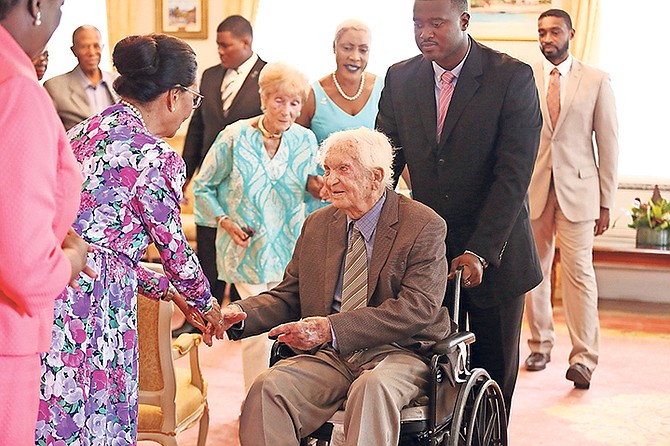 By DANIELLE BARNES
GOVERNOR General Dame Marguerite Pindling, One Bahamas, Rotary Club and Aliv met yesterday at Government House to announce the launch of a 100-day countdown to Sir Durward Knowles' 100th birthday.
Sir Durward is a Bahamian sailing legend.
He, with the late Cecil Cooke, made history by becoming the first Bahamians to win a gold medal in the Olympic Games. Their historic feat occurred in the 1964 world sailing Olympics in Tokyo, Japan.
Sir Durward is not only praised for his athletic accomplishments, but is also looked at for his exemplary philanthropy in the areas of physical and mental disability.
Over the years, he has sought to empower others and was awarded the Rotary International's highest honour -- the Service Above Self Award -- given in recognition of exemplary humanitarian service.
The One Bahamas Foundation, powered by mobile phone company Aliv, expressed great joy in celebrating with Sir Durward, who was one of the founding members of the foundation.
The 100-day countdown was created to reflect on the life and times of Sir Durward. Through various media houses and social media platforms, the countdown will feature one minute facts about his achievements. The countdown began yesterday and ends on his birthday, November 2.
As Sir Durward prepares to celebrate his 100th birthday, he remained humble and witty as he conveyed feelings of gratitude for this recognition.
"It's an honour to be here," he said. "I can't thank you enough, you can never understand how it feels to being appreciated."
He joked: "I wish I had 100 more."
Patricia Francis, member of One Bahamas, encouraged Bahamians to join with them as they reflect on the successful lifetime achievements of Sir Durward.
"It's really a pleasure for us to be here to celebrate the beginning and the lead up to the 100th birthday," Ms Francis said.
"We intend as a committee and also the wider public to begin doing some things that will reflect on Sir Durward.
"One hundred days to the 100th is definitely going to go down in the history books."
Along with the countdown, the committee plans to host its annual One Bahamas walk in November, just in time for Sir Durward's birthday.
Charles Sealy, representative of the Rotary Club and voice of the one minute countdown, also commemorated Sir Durward on his lifetime achievements.
"Sir Durward is treasured by all Bahamians, but he is especially treasured by Rotary," Mr Sealy said.
"Not only has he poured his heart, his hands and his finances, he continues to embody the significance of who we are as Rotarians."
Dame Marguerite expressed praise for Sir Durward's accomplishments saying that it is fitting to celebrate him during the Commonwealth Youth Games, which wrapped up in New Providence on Sunday.
"You already won your gold," she said. "I believe you set the pace for us way back in 1964."
Bahamians are encouraged to join in on the 100-day celebration and can contact www.onebahamas.org to plan activities.