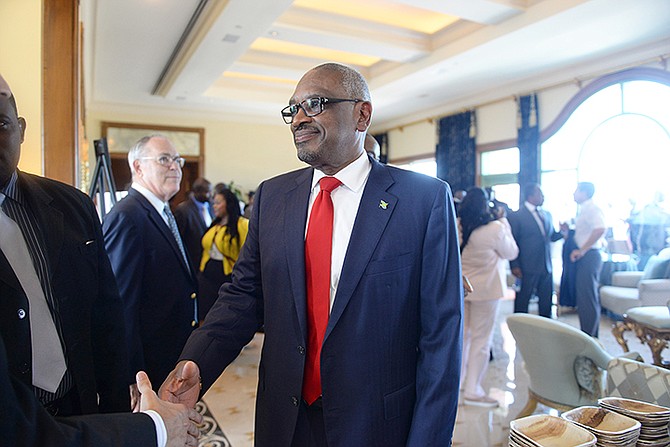 By KHRISNA VIRGIL
Deputy Chief Reporter
kvirgil@tribunemedia.net
PRIME Minister Dr Hubert Minnis yesterday said he would not meet with Leader of the Opposition Philip "Brave" Davis as he dismissed concerns about being the subject of payback following a letter from the PLP leader.
Dr Minnis insisted his "life is an open book" and hit out at Mr Davis for breaching protocol after the harsh letter was leaked to the press.
Asked to clarify whether Mr Davis called him in relation to the letter, Dr Minnis said "No. N-P-O. No." He repeated the same in response to questions of whether he would meet with Mr Davis over this issue in the future.
It is unclear what Dr Minnis was referring to when he said "NPO". However, he could have been referring to medical Latin term "nil per os", which when translated in English means "nothing through the mouth".
"My life is an open book I have nothing to hide," Dr Minnis said when asked if he was concerned he could find himself subject to any payback at the hands of the PLP. He was speaking to the media following a tour of Atlantis on Paradise Island.
"My only worry today is that yesterday (Monday) was my anniversary and I forgot," Dr Minnis added.
Last week, Mr Davis wrote a strongly worded letter to Dr Minnis regarding criminal probes of PLPs. He warned: "When you set out to dig a grave for your enemy, dig two."
The letter was leaked to The Tribune and other media and also circulated on Facebook and messaging platform WhatsApp.
Dr Minnis suggested he rejected the letter because it was made public. He said Mr Davis could have called him, but as it stands, the Cat Island, Rum Cay and San Salvador MP has not done so.
"The leader of the opposition, if he wanted to speak to me, he knows what to do if he sent a letter to me. He subsequently gave the letter to the press and social media. He is not talking to me. He knows protocol."
The Tribune did not receive the letter in question from Mr Davis.
Dr Minnis also said: "Listen, whoever does wrong will be dealt with be they PLP, be they FNM. Once they have done wrong, then the laws will take their course. Let the chips fall where they may. If he has facts, then give it to the police. Don't tell me about it. Don't tell the press. Give it to the press."
Mr Davis' letter, which was written on July 18, highlights his frustrations with the Royal Bahamas Police Force's (RBPF) anti-corruption investigations.
Calling investigations like the one into former Deputy Speaker of the House of Assembly Dion Smith an "abuse of power," Mr Davis warned: "When such abuses of power occur, the offending parties, be they police officers or politicians, need to understand that there will come a day of reckoning for them as well.
"What goes around, comes around. And let me hasten to add that that is not a threat. It is an immutable law of the moral universe, one that is sometimes expressed in these words: when you set out to dig a grave for your enemy, dig two."
Mr Davis added: "Those who are committing these abuses should therefore understand they cannot do so with impunity. To use your own words: where you do wrong and abuse your position, there are consequences."
Mr Davis wrote that while he believes crimes should be investigated when reasonably suspected, exonerating information should be taken into account during investigations.
Mr Davis also expressed concern that investigations have not been "free of political contamination".
In his letter to Dr Minnis, which was also sent to Attorney General Carl Bethel and National Security Minister Marvin Dames, Mr Davis protested the treatment of the PLP politicians who have been in custody, including Mr Smith whom he felt should not have "spent a night in jail even after it had become unmistakably clear that there were no reasonable grounds for believing that he had committed any criminal offense whatsoever".
Mr Smith, former executive chairman of the Bahamas Agricultural and Industrial Corporation, was arrested and held in police custody overnight in late May in connection with a theft probe from the government agency, police said at the time.
Eight other people were also arrested over the course of the investigation, however no one was ever charged.
Earlier this month, Assistant Commissioner Paul Rolle said police closed the investigation into the matter and found no evidence of wrongdoing.
Yesterday, Dr Minnis also ignored questions over whether he was still renting a building to the Public Hospitals Authority (PHA).
In 2015, while in opposition, Dr Minnis came under criticism over allegations he was involved in a conflict of interest because a company he owned was renting to the PHA while he sat in Cabinet as health minister under the previous Ingraham administration.
However, Dr Minnis has said after becoming the minister his interests were disclosed as is required by law and also to former Prime Minister Hubert Ingraham. He has said Mr Ingraham told him to have the PHA relocate as soon as was possible.
But now that the Minnis administration's anti-corruption plan is underway and some former PLP politicians have been questioned by authorities while others have faced charges before the courts, questions have again surfaced over whether the prime minister is still financially benefitting from the PHA.
Dr Minnis' company, Leechez Investments Ltd, was awarded a two-year contract with the PHA to lease its Stat Care building in 2005 while he was a private citizen. Dr Minnis has said he disclosed the contract while in office and said he had directed the PHA to find another landlord. However the contract continued on a month-to-month basis and Dr Minnis disclosed the matter in his financial declaration submitted to the Parliamentary Registration Department ahead of the 2017 general election.
According to an April 18, 2017 letter from the PHA, the contract is valued at $7,500 a month.