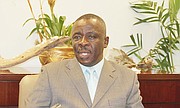 By NICO SCAVELLA
Tribune Staff Reporter
nscavella@tribunemedia.net
THERE has been a "downtick" in the number of reported incidences of school violence, Education Director Lionel Sands said yesterday, who attributed the decline to heightened school security measures and local police support.
Mr Sands, in an interview with The Tribune, said education officials are "happy" the frequency of violent incidents has decreased, pointing to a greater emphasis on "conflict resolution" by various school officials to curb the unsavory trend.
However, Mr Sands said the Ministry of Education is not "satisfied" with just a mere reduction, and will work to "reduce them to a level where we are able to live without having the fear that teachers or students would have being in a school environment."
Government school brawls, on and off campus, have been a major issue in recent years.
In December 2015, a 16-year-old Doris Johnson Senior High School male student was killed during a brawl that occurred less than a mile from the school's campus.
Earlier that year, a security guard at LW Young Junior High School was hospitalised after he was shot multiple times by a gunman dressed in a school uniform.
In June 2015, four girls aged 14 to 16 were arrested during a fight that involved dozens of C V Bethel Senior High School girls, sending two of them to the Princess Margaret Hospital.
One girl had a portion of her ear bitten off during that fight.
In January of this year, a teenage boy was sent in critical condition to hospital after he was stabbed multiple times during a brawl at Government High School. Later that month, a 7th grade male student of AF Adderley Junior High School allegedly brought a gun on the school's temporary campus.
And in June, a teenage boy was taken to hospital for treatment for "minor wounds" after he was stabbed with a knife during an argument with another teenager at HO Nash Junior High School.
Notwithstanding this year's incidents, the likes of which were enough to prompt Bahamas Union of Teachers (BUT) officials to speak out publicly in fear for teachers' safety in February, Mr Sands maintained that school violence is on a downward trend.
"I've seen it and I'm happy that we have experienced that," he said. "And it's really in part to the efforts of our school security personnel within each of the schools, our administrators and also we have other partners who come in to help students to be able to deal with conflicts.
"And so conflict resolution is so big nowadays in our system where every school, we have a programme that deals with conflict resolution, and that has helped over the last several months for us to be able to see the downtick in the kind of violence that we've seen in the past.
"And so we'll continue to up our efforts in those areas, conflict resolution and that kind of stuff, and also training of our school personnel, administrators in how to deal with students having challenges with conflict and that kind of thing.
"So we've seen it, and we're happy that it is. But we're not stopping there. We will continue to do what it is that we've been doing to ensure that we bring it down to a level we're satisfied with. We're not satisfied with it yet, but we're getting there."
Mr Sands said the ministry has placed a greater emphasis on weapon detection at the school's gates, which he said has contributed to a dip in school violence. He said officials have wised up to the tactics of some school students to throw weapons over the school's walls and/or fence, only to retrieve them after being screened.
"The challenge we had with that in many of our school grounds are wide open," he said. "And so the kid might not necessarily come through the gate with a weapon, but certainly we've seen in the past where children might have been able to throw the weapon over the fence and then collect it once they get through the gate.
"And so what we've done is we've ensured that security personnel traverse the perimeter of the grounds constantly to ensure there is nothing hidden around the perimeter that children could have access to once they get through the gate. And so we've heightened that to ensure that that does not happen.
"Now, the challenge we have is, if kids have the weapon and they're out of the school grounds and they use them after schools, it's difficult for us to be able to police that because that's outside of the boundaries of the school. And we understand that children do that, they have access to weapons once they get out of school.
"And once they in a uniform and they're in the vicinity of school, not necessarily on the grounds, then obviously most people would say that's a school problem. But the school's problem ends at the gate. And now the parents would have to also take responsibility for their children once they leave our care. Be that at the gate or beyond the gate, they ought to take responsibility for ensuring that their children are not getting involved in."
Mr Sands said the ministry and various school officials have been aided in their attempts by members of the Royal Bahamas Police Force (RBPF), who do their best to quell arguments and/or fights that take place off campus.
"…That's the reason why we rely on the police to be around the school vicinity after school and even before school," he said. "You'll see that when school reopens, where the police would be visible around the schools, and then after school at 3 o'clock they'll be visible around the school to ensure and encourage children not to get involved in those kinds of activities in the school vicinity.
"And so once we're able to get, and we have been getting the support of the police in those areas, I think we're moving in the right direction. And wish to thank the police for the support that they have given us over the years."
Still, Mr Sands said that "leadership" at all levels of any school is fundamental to reducing school violence.