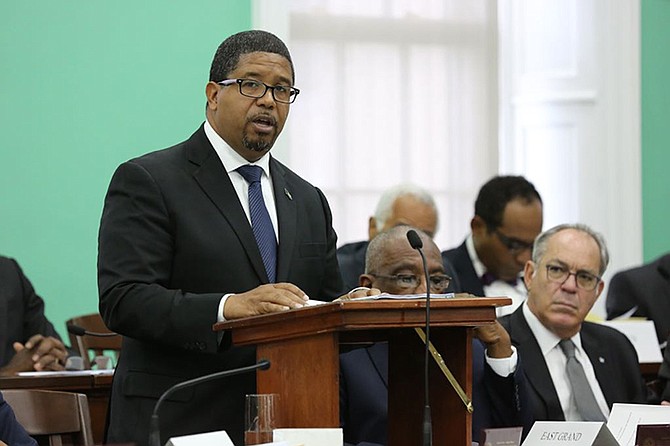 By SANCHESKA DORSETT
Tribune Staff Reporter
sdorsett@tribunemedia.net
THE government expects to achieve even more savings than the 10 per cent reduction in spending ordered for each ministry, according to Deputy Prime Minister K Peter Turnquest.
He said this will be realised by identifying duplicate government programmes, cutting overpriced public contracts and eliminating wastage.
He told reporters each ministry will be mandated to present the details of its spending reductions to the government before the next budget communication in June.
On Wednesday night, Prime Minister Dr Hubert Minnis announced a variety of conservative fiscal measures, including a ten per cent cut in spending in all government ministries and no new public sector hiring.
In his first televised national address as the nation's leader, Prime Minister Minnis also said there will be no renewal of contracts for salaries that exceed $100,000 per year. He said he will ensure his ministers "adhere to their budgets and to financial constraints".
He also announced a reduction in government vehicles as part of a "new era of financial discipline."
When asked about this yesterday, Mr Turnquest said: "We anticipate that over the year we will achieve a 10 per cent reduction in the recurrent expenditure of every ministry. That is not something that you can say today 'I'm cutting 10 per cent' and that's it. This will go across the year and with the goal that the budget that each ministry has been allocated, they now have to go and reassess where they are going to find 10 per cent.
"And so whether it is in projects, whether it's in resources, whether it's in consultancies, whether it's in services, they will have to figure out how they're going to, come June of next year, show the Bahamian people that they saved 10 per cent of that budget allocation.
"But even deeper than that, and I think more significant than that and the question you ought to be asking is, what about these expenditure reviews, and what do we expect to achieve by doing that deep audit of all of these various categories of significant expense. Far and above a 10 per cent broad cut, I think we are eyeing a much more significant savings by doing our due diligence with respect to these programmes, the duplicate programmes that we have, the overpricing of contracts, the wastage in the system. We expect greater savings than 10 per cent," the minister of finance said.
During his national address, Dr Minnis said several forensic audits are being conducted in government ministries to recover, where possible, the people's money. He said the former administration recklessly spent public funds without checks or balances.
"Approximately a quarter billion dollars was spent by the last administration in the months leading up to the general election. This was another glaring example of the recklessness and massive waste by the former administration, which still today accepts no responsibility for its disastrous governance," Dr Minnis said.
The Tribune previously reported a "horrendous" $234 million was added to the government's fiscal deficit during the May 10 general election quarter, according to Central Bank data released earlier this month.
Last month, the Minnis administration passed bills to borrow more than $722m to cover inherited outstanding bills along with the costs associated with running the country moving forward.
Reply Reply to All Forward More