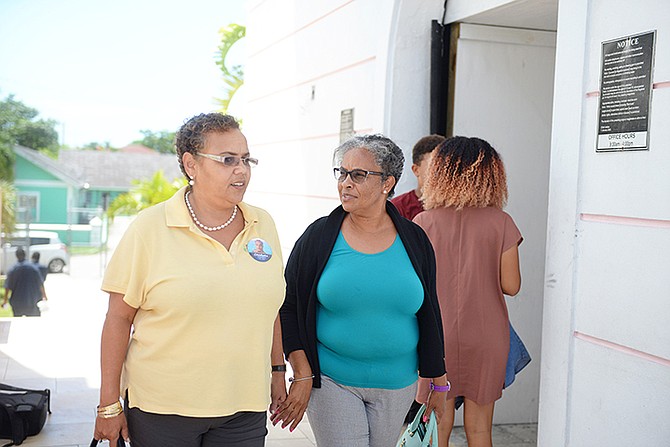 By RASHAD ROLLE
Tribune Staff Reporter
rrolle@tribunemedia.net
THE inquest into the death of 25-year-old Christopher Turnquest continued Friday with a Royal Bahamas Defence Force officer testifying that Mr Turnquest's skiff should not have been at sea the night of the accident because it was devoid of lights and the weather conditions were deteriorating.
Had the RBDF's vessel been speeding in the harbour as lawyers for the Turnquest family allege, the damage it would've inflicted on the skiff would've been far greater than the damage the skiff ultimately sustained, Mr Clarke said. He suggested the skiff would've split in two upon impact if it had collided with a speeding RBDF vessel.
Petty Officer Fredrick Clarke, an officer of 27 years who was the coxswain aboard the vessel searching for Mr Turnquest's body on October 3rd, 2016, said the damage the skiff sustained was consistent with impact from an RBDF vessel travelling at a speed of no more than five knots in the no-wake zone, which is within the allowable limit.
If the RBDF vessel collided with the skiff while traveling at five knots, Mr Clarke said, the vessel would've risen up and, assuming the kill switch of the vessel is subsequently pulled, would come to a halt, causing the kind of damage the skiff ultimately sustained.
However, Mr Clarke could not say if the kill switch aboard the RBDF vessel was, in fact, pulled.
Mr Clarke testified that the skiff from which Mr Turnquest jumped lacked lights, based on pictures of the skiff that were shown to him.
Because of this, the skiff may not have been visible to the crew of the much larger RBDF vessel, he said.
He testified that although he was on vacation at the time of the accident on October 2nd, the conditions of the sea could've been affected by the weather as Hurricane Matthew was approaching, reducing visibility.
The deteriorating conditions had prompted the Meteorological Department to release a small craft advisory.
The inquest resumes Monday.
The Turnquest family is represented by Murrio Ducille while Romona Farquharson-Seymour is representing the RBDF.