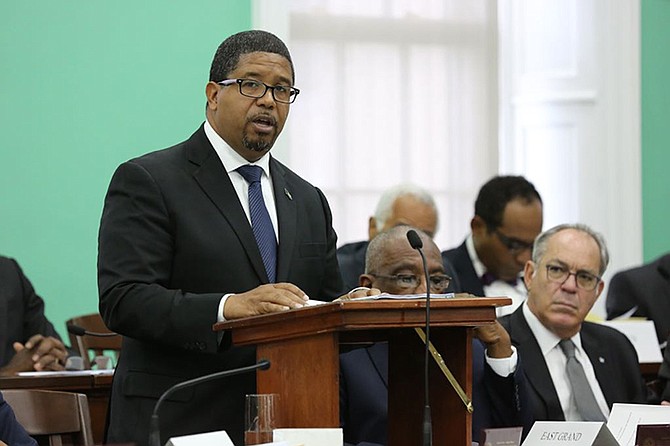 By KHRISNA VIRGIL
Deputy Chief Reporter
kvirgil@tribunemedia.net
THE Minnis administration projects borrowing more than $722m to cover inherited outstanding bills along with the costs associated with running the country moving forward, after discovering the current fiscal year is "far bleaker" than anyone could have imagined as the Christie administration left "the cupboard bare," according to Finance Minister K Peter Turnquest.
The deputy prime minister explained that $400m is needed to satisfy expenditure for the past year, while $322,462,707m will be borrowed for the 2017-2018 Budget, amounting to a whopping $722,462,707m.
Describing the new administration's position as "difficult" because it has to grapple with an "historically high burden" of government debt, Mr Turnquest said to continue on this track is "destructive."
Therefore, he said the government will have to run a ship that is fiscally prudent with an agenda of change aimed at eliminating the deficit to return the debt level to more sustainable levels.
He further pledged to table in Parliament a complete list of subsidies the government awards to foreign developers so that Bahamians can see not only where value added tax (VAT) dollars were spent but how other tax dollars were handled by the previous government.
"To cover the fiscal overhang for 2016-17 we need to borrow $400m," the deputy prime minister explained to reporters following his budget presentation in the House of Assembly.
"What it means is that we have bills outstanding today that we have to borrow to meet because of the fact that there was no provision made for those expenditures in the previous budget. So in order to make sure that we can pay salaries and that we can pay all of the existing payables that we know about as well as some of them that we are aware of that are still coming in, we need to provide the Treasury with funding to be able to do that.
"You would know that over the last couple of weeks there have been numerous complaints from various institutions that they have not been getting their salary deductions forwarded. All of this is a part of why we needed to do this borrowing to make sure that we meet our commitments to our vendors directly as well as to our employees throughout the civil service who are due these payments."
He continued: "In our 2017-18 Budget we are projecting that we are going to have to borrow $323m. So it's two sets of borrowing here."
"Obviously we are not happy about that. But included in that $323m is a lot of commitments that you can't just sever. So as soon as we are able to within the next couple of months, we intend to do a detailed project to identify those expenditures to do a complete efficiency audit to make sure that these expenses (and) these costs are legitimate that they are necessary in order for us to function as an effective government," Mr Turnquest also said.
Bleak prospects
According to the East Grand Bahama MP, while the former Progressive Liberal Party government had forecast a GFS deficit of $100m, the actual out turn is expected to be around $500m. This is five times the budget prediction from 12 months ago.
Speaking to members of Parliament, he said Hurricane Matthew further accounted for the ballooning of the deficit and missed fiscal targets.
"To foreshadow what I am about to discuss, let me be quite blunt: the fiscal situation in the current fiscal year is far bleaker than we could ever have imagined. Our predecessors have literally left us with a cupboard that is bare.
"The stark facts are as follows: the deficit out turn in the current fiscal year features a significant deterioration as compared to the fiscal projections contained in the previous final budget. While they had forecast a GFS deficit of $100 million, the actual out turn is now expected to be on the order of $500 million. That is an astonishing five times the budget forecast of only 12 months ago.
"The sharp deterioration in the state of the public finances in 2016-17 did admittedly flow, to some extent, from the multi-faceted impacts of Hurricane Matthew in early October 2016. On one hand, the hurricane severely dampened economic activity in October, with the impact extended and through to the fourth quarter of the year. As a result, it is estimated that real GDP in 2016 posted a zero rate of growth for the year as a whole, as compared to the Budget forecast of 0.5 per cent growth.
"This directly weakened revenue collections. Recurrent revenues were also reduced through the effects of the exigency order implemented by our predecessors, as a means of providing relief to those impacted by the hurricane. In combination, these factors resulted in a shortfall in recurrent revenue collections to the tune of $216 million, to a level of $1,960 million vs. the $2,176 million budgeted. "Weaker revenues thus account for a significant portion of the $400 million slippage in the GFS Deficit in the current fiscal year."
He went on: "Hurricane Matthew also affected the expenditure side of the budget, through the actions implemented by the government to assist in the rebuilding efforts and the repair of public infrastructure. For example, the capital expenditures of the Ministry of Public Works were bolstered by over $55 million above and beyond its budget allocation. Total capital expenditures thus amounted to $310 million vs the $242 million budgeted.
"In addition, recurrent expenditures during the year amounted to some $137m more than had been forecast, ie, $2,458 million vs $2,321 million.
"Key contributors to this increase were a higher level of debt redemption, at $21m, as well as higher interest payments on government debt, at $27 million. Total government direct debt at the end of the 2016-17 fiscal year is estimated to amount to $6.5bn or 71.5 per cent of GDP."
Mr Turnquest said this, however, is not the end of the story in the current fiscal year. He said the combination of revenue shortfalls and accelerated spending contributed to a greater than usual backlog of payments and commitments as the government approaches the end of the fiscal year.
"The latest information has this backlog in excess of $300 million and it is possible that this number could increase before the end of the year as we get a greater understanding of the many deals of the former administration. This high level of outstanding payable is directly responsible for the government seeking emergency funding to meet the obligations of the 2016-2017 Budget, as vendors are clamouring for payments. It is our intention to fully pay all of this backlog of payments and commitments this fiscal year and minimise, to the greatest extent possible, any carryovers into the 2017/18 fiscal year."
Fiscal improvement
Over the next three months, the government plans to work diligently to improve the fiscal situation and prospects that have been left behind, Mr Turnquest said.
This includes, among other things, an in-depth review of government expenditure programmes to determine where and how value for money can be enhanced, how effectiveness and efficiency of service can be improved and where savings and reallocation can be secured to both finance the government's policy priorities and facilitate a more expeditious reduction and elimination of the GFS deficit.
"We will strengthen the accountability and transparency of the fiscal operations of government in the Ministry of Finance as such we have embraced and would vigorously implement the IDB funded Public Financial Management project details of which are on the website.
"Also as part of this initiative, to bring transparency and accountability to the fiscal operations, we intend to table in Parliament a full list of financial subsidies provided to developers so the Bahamian public can see not only where the VAT money has gone but where all of the tax money has gone.
"We will also seek to reduce these subsidies to an irreducible minimum and apply a very rigid test on future requests for financial subsidies to ensure that more money is available to finance the operations of the government.
"We will introduce revenue administration legislation which, if approved, would formally create the Department of Inland Revenue and strengthen the enforcement powers and revenue collections. "Individuals and businesses should be alerted that, in this new era of accountability and transparency, this government will adopt a zero tolerance approach to those who do not pay their taxes. We will be fair and transparent in our enforcement efforts but we will also be decisive," Mr Turnquest said.