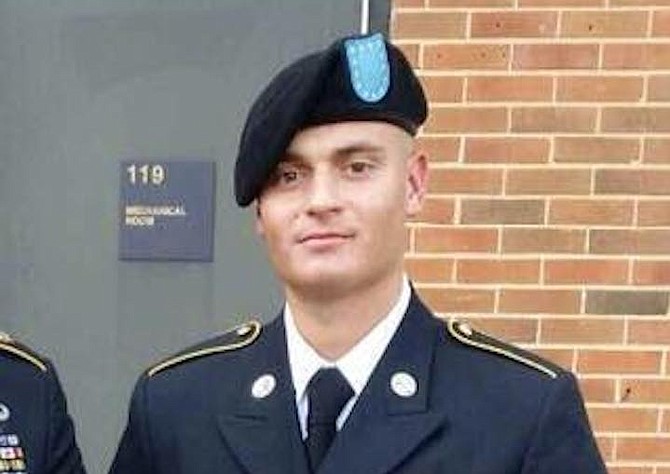 By AVA TURNQUEST
Tribune Chief Reporter
and COLIN C CORTBUS
aturnquest@tribunemedia.net
A DOUBLE homicide in Tampa, Florida, has landed the grandson of a longstanding Grand Bahama family business owner in federal court facing charges for possession of bomb-making materials as a confessed Neo-Nazi.
Brandon Russell, a former St Andrew's School International Baccalaureate student in eastern New Providence and grandson of Park 'N Shop owners William and Molly Russell, was charged last Monday after he was arrested during a traffic stop in Key Largo on May 22.
Russell, a 21-year-old Tampa resident enlisted in the US Army National Guard, returned home from duty on May 19 to find the dead bodies of two of his roommates, Jeremy Himmelman and Andrew Oneschuk.
Police reportedly arrived a short time later with his other roommate, 18-year-old Devon Arthurs, who had held up a nearby smoke shop and confessed to killing the men because they disrespected his Muslim faith.
Arthurs told police he had recently converted to Islam, and no longer shared the same Neo-Nazi beliefs as his roommates.
He also told police, according to The Miami Herald's account of the arrest affidavit, that Brandon Russell had previously "threatened to kill people and bomb infrastructure" in Neo-Nazi online chat rooms.
During a sweep of the apartment, the FBI and Tampa police found a white, cake-like substance in its underground garage that tested positive for hexamethane triperoxide diamine (HMTD), a high-explosive substance. Police also found empty bullet casings that contained fuses which could be used as a detonator, according to The Miami Herald.
In Russell's bedroom, the FBI reportedly found a framed photograph of domestic terrorist Timothy McVeigh, who was convicted and executed for detonating a bomb in Oklahoma City on April 19, 1995.
"They also found Nazi/white supremacist propaganda, according to the FBI complaint. While in his bedroom, devices used by police bomb technicians alerted to the presence of radiation sources - thorium and americium," The Miami Herald reported.
The article continued: "Before asking for an attorney, Russell told FBI agents he was a "national socialist", according to the complaint, and a member of a group called the "Atom Waffen," or "atomic weapon" in German."
Atomwaffen is a small, white supremacist collective that has been branded a hate group by the Anti-Defamation League and the Southern Poverty Law Center.
Russell reportedly told officials that the explosives were manufactured in 2013 for a rocket-making project in collaboration with a University of South Florida engineering club, and that the intent was to send balloons into the atmosphere. However, The Miami Herald article notes that FBI Agent Timothy Swanson wrote in his report that HMTD is "too energetic and volatile for these types of uses".
Russell reportedly faces a maximum sentence of 11 years in federal prison if convicted on charges that include possession of unregistered destructive devices and unlawful storage of explosive charges.
St Andrew's would not confirm yesterday whether Russell graduated from the IB programme; however, in 2013, he was heralded as an "amazing student" in the March 8 edition of the school's weekly newsletter "Heads Up" for an experiment with a Tesla coil that he had made.
Russell was also praised for his role in facilitating a class presentation from historian and former St Andrew's alumnus Eric Wiberg. Mr Wiberg, a licensed sea captain and maritime lawyer, has chronicled the activities of German and Italian submarines in and around the Bahamas, and Russell had reached out to him for more in-depth information for his research essay on U-Boats in the Bahamas.
"Brandon Russell is an IB Student in Year 12," the newsletter read. "Yesterday, Thursday, March 7, Brandon attempted to carry out an experiment with a Telsa coil he created. Brandon was supported during this experimentation by his Physics teacher, Ms Arthur, his peers from Physics class in Year 12 and a few of the Physics students in Year 13. It was amazing to see the camaraderie, interest and cooperation among the group, as they eagerly tried to reach their goal and help Brandon succeed at this experiment."
It continued: "Brandon's story does not end here. On Monday March 11, the Theory of Knowledge Year 12 class and the IB History class will hear from Mr Eric Wiberg, Historian, and author of U-Boats in the Bahamas. Mr Wiberg is alumni of St Andrew's and former student of Mr Allan Murray. Brandon's Research Essay is on U-Boats in the Bahamas; therefore upon his research he came across the works of Mr Wiberg and decided to contact him for more in depth information. Mr Wiberg's response to Brandon then started the communication and interest to speak to the rest of the Year level on his works. Well done, Brandon!"
Attempts to reach several of Russell's family members were unsuccessful up to press time.
In an interview with the Tampa Bay Times, a friend of the pair claimed that Russell's family "was not happy with his views and kicked him out of his home".
Watson Fincher told the paper that he met both Russell and Arthurs online in political chat rooms dedicated to white nationalism. He claims that Russell was 17 when he was drawn by the "ideological exchange".
Russell's mother, Chantalle Russell-Hilts, operates The Athlete's Foot franchise stores in Nassau and Freeport.
He joined the Florida National Guard in February, 2016, according to the Miami New Times. It was noted that Russell worked as a systems operator maintainer and that he had no deployment history.
In February, 2016, Mrs Russell posted a photo to Facebook of her son wearing a National Guard t-shirt with Mr Russell Sr, and in September, she posted another photo of him congratulating him on his designation as "PFC. Russell Signal Corps Soldier".