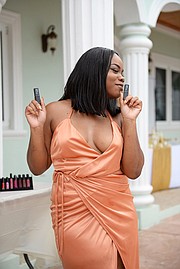 By ALESHA CADET
Tribune Features Reporter
acadet@tribunemedia.net
AT only twenty five years old, Petra Hanna has not only launched her own cosmetics line, she is also pushing the boundaries of traditional beauty standards.
On Sunday, the former performer and model officially debuted her Rev'or Cosmetics brand. It caters to all skin colours and aims to deliver quality makeup at competitive prices.
She aims to target not only the local market, but the international one as well, with plans to host launches in US cities and reach out to YouTube beauty gurus.
"I have always been obsessed with fashion, Hollywood, the glitz, glamour, and being able to reach the world through platforms. In this beauty profession I love being able to knock stereotypes down of what a woman should look like," Petra told Tribune Woman.
"I've been told that I'm too curvy; my hips are too big, my thighs rub. The industry was not accepting of 'plus size' women, and because of that reason I love being able to escape from the (traditional) beliefs and accept myself because I look and speak like the average woman."
Petra said she grew to accept her body for what it is and be OK with not looking like the usual runway models. She grew confident in herself and as a result has been able to travel the world alongside local designers.
"I have walked in numerous fashion shows and have acted in front of thousands of people collectively at stage plays. Both fields have opened the doors for me to be exposed to an international market which fuelled my drive to change the world one industry at a time," she said.
This experience also inspired the name of her cosmetics company.
"I overcame once again the stereotypes and fear that the community placed on me and it took me to a place of fearlessness, hence the word 'Rev' (reverend), and 'or' came when I combined both my upbringings and professions into one. People are afraid of what they can't understand and I never trusted what someone else had planned for my life but me. Rev'or Cosmetics was born through my life's struggle," she said.
At the launch, Petra invited local journalists, comedians, entrepreneurs, designers, fashion enthusiasts, makeup artists, musicians and influencers in the industry to test her products and purchase their favourites.
So far, the line includes liquid lipsticks in different finishes, bullet lipsticks, lip liners, eye liners, bronzers, blushes, mascaras and more.
"The reviews received have been amazing. All of the products are high in pigment with a smooth, silk cream appearance on both the skin and the lips. The products are also eco-friendly and gentle on all skin types. As the company grows, we will expand the brand," she said.
Going forward, Petra's goal is to one day expand her business into a Fortune 500 company and change the way society and the industry views beauty by promoting self-awareness and self-acceptance.
"2017 will be my year of marketing. I will be placing my brand of cosmetics in local stores to be in reach for all of my customers. I will be sending a few of my products to a few well-known YouTube gurus before the year is out to push my products on an international level. I will travel to Cleveland, Ohio, for two days in July for a second launch party, and Baltimore, Maryland, in December for a third. I can guarantee that you will see Rev'or Cosmetics on a larger scale with store locations in a minimum of six states in the United States of America and in European countries. I want to target stores like Ulta, Walmart, Walgreens, Target, Kmart etcetera," she said.
Rev'or Cosmetics is based in Nassau. Visit www.revorcosmetics.com for more information.