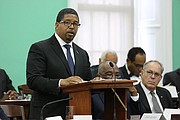 By RASHAD ROLLE
Tribune Staff Reporter
rrolle@tribunemedia.net
TWENTY-FIVE state owned enterprises will receive $429m in the upcoming fiscal year, with Finance Minister K Peter Turnquest noting that the government receives no returns or dividends from such institutions.
This year's allocation to such institutions is increased by $79m compared to the previous fiscal year, mostly because of the introduction of National Health Insurance (NHI).
As usual, the Public Hospitals Authority (PHA) will receive the most money, with $213.8m allocated to it or 50 per cent of the government's total subventions.
The new National Health Insurance Authority will receive $47m, the University of the Bahamas $34.5m, Water and Sewerage Corporation $30m, the Bahamas Civil Aviation Authority $17.1m and Bahamasair $14.9m.
"This only tells a small part of the story," Mr Turnquest said in the House of Assembly yesterday.
"There are other entities which have underperformed and not provided any benefits or static benefits to the state. For example, BEC and its operating company BPL have not been in a position to provide dividends to the government for over 20 years. Likewise, the Nassau Airport Development Company has not found a formula to provide any returns to its shareholders after ten years."
He continued: "The restructuring of the Bank of the Bahamas has cost the government over $200m and counting. The government has invested close to $70m in NewCo, the operators of Aliv. As can readily be appreciated, these subsidies, investments and lack of returns or dividends have a substantial impact on the government's fiscal resources. Given the need for prudence and restraint in the period ahead, it will therefore be imperative that such subsidies, investments and other support from these SOEs be reviewed and assessed objectively and equitably in line with other areas of direct government activity."
Mr Turnquest stressed during his budget contribution in Parliament that the government intends to impose greater fiscal controls on the country's finances than in the past, placing a priority on transparency and accountability.
To help accomplish this goal, the Minnis administration intends to enact fiscal responsibility legislation "to elaborate the rules and procedures relating to core budget principles."
The government is also considering establishing an Office of the Auditor General Agency, Mr Turnquest said. This will be an "approved authority whose overall work and finances would be under the supervision of a board comprising members of Parliament and private citizens with requisite qualifications in accounting, law or government."
He added: "The board would play no role whatsoever in the preparation of the auditor general's annual audit plan nor in the conduct of individual audits."