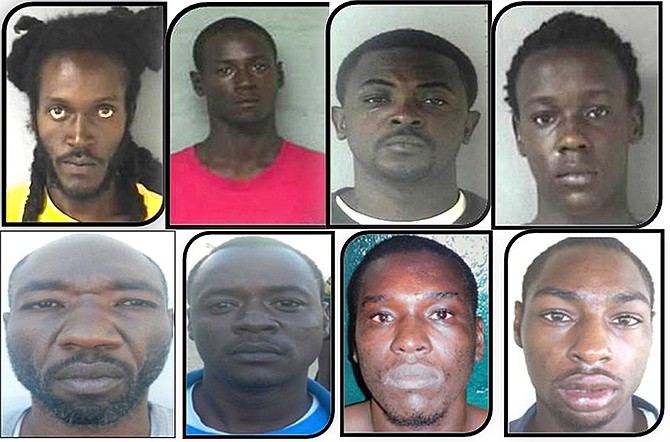 UPDATE: 45-year-old Ronald Nottage has been arrested since this story appeared.
By NICO SCAVELLA
Tribune Staff Reporter
nscavella@tribunemedia.net
SENIOR police on Friday warned the country's criminal element that there was a "short time" to turn themselves into police custody, as they pledged to immediately take a "zero tolerance approach" towards crime and its perpetrators.
Senior Assistant Commissioner of Police Stephen Dean, during a press conference at Royal Bahamas Police Force (RBPF) headquarters, said the law enforcement agency will be "turning up the heat on criminals on the road", so much so that they now have a "small window to operate" in whatever "comfort zone" they are in to evade police capture.
ACP Dean also said those harbouring criminals "have no excuse" for doing so, stating that the RBPF will "lock up everybody" in any household in which criminals are found. He also warned parents to keep tabs on their children's activities and associates, asserting that police "don't want nobody crying about 'my good child'" when those persons are arrested.
This is especially applicable to eight men who are wanted on murder charges, ACP Dean said. They are Ronald "Ronnie" Nottage, 42; Dwight "Kitty" Morrison, 32; Patrick Goffee, 33; Julio Edwin Deveaux, 18; Alfred George, 28; Jermaine Scott, 30; Gibson Baptiste, 25; and Tico "Pitbull" Lightbourne, 31.
ACP Dean said police know the whereabouts of these men, adding that it's "only a matter of time before we bring you into custody." He said these men can expect a 'knock' on their doors "very, very soon."
"But, you know, we're giving you the opportunity now," he said. "Should you hear this, you only have a short time to surrender and turn yourself into custody. And so shortly after the newscast, the police phones should be ringing to say 'come and get me'.
"We need to find you, we will find you. We have proven in the past that after we put these (wanted posters) out, we will find these persons. So we will find you wherever you are in the Commonwealth of the Bahamas. And if you have left the commonwealth of the Bahamas we will find you because our tentacles are very far.
"So you can't escape the arms of the Royal Bahamas Police Force."
ACP Dean also extended his advice to the relatives and/or associates of wanted suspects.
"The Bahamian people are at a crossroad," he said. "They're just tired. Murderers, criminals running up and down the streets like nothing happening, like it's normal business. It can't be business as usual.
"So we are turning up the heat on criminals on the road. So we say to parents, you have your children, know where your children are. Know the friends of your children, who they're going to be involved with. Because we don't want nobody crying about my good child when these persons are arrested. Know what exists in your house. If there's guns and drugs in your house, call the police.
"It's a criminal offence to harbour a criminal, to have them in your custody. Yes it may be your child, but if you know that they are wanted, which you will see today…and flyers are out there on social media, so you have no excuse, and if we come to your house, it ain't gone be that we gone lock up just the criminal," he added.
"We gone lock up everybody, everybody gone be arrested. And I can tell you when that fellow is going to court, or woman is going to court, everybody, you and them will be together on that same day appearing in court. So that's the zero tolerance approach that we're taking.
"So if you have these persons or you know where these persons are, don't allow them, don't feed them, don't clothes them. If we know that you've been visited, we're going to arrest you also."
ACP Clayton Fernander, also present at Friday's press conference, appealed to members of the public to continue to assist police in their attempts to capture wanted criminals.
"…We are pleading to members of the public, to please, as usual, assist," he said. "You have officers on the ground on a daily basis who are checking their homes, checking relatives, and we know that they're out there, because based on our intelligence they're just moving about.
"Once these persons are able to come into custody we will be able to advance a number of serious matters with respect to these individuals."
He added: "In the coming days, weeks months we will turn up the heat. You will see us as usual out there, and we're going to try, and we will, limit that fear of crime with members of the public. And how we're going to do that? Ensure consistent visibility within the communities. Response time to members of the public's complaints…we're going to be responding in a reasonable time.
"…We believe if we are consistent with visibility, arresting individuals, reaching out to members of the public with respect to their complaints, feedback and response time, we will eliminate the fear of crime."