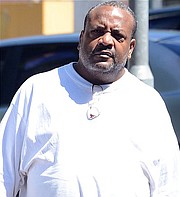 By LAMECH JOHNSON
Tribune Staff Reporter
ljohnson@tribunemedia.net
A MAN recently sentenced to 35 years imprisonment for matricide missed his 21-day deadline to contest his conviction and sentence to the Court of Appeal, The Tribune understands.
Last month, Jerome Butler, 57, appeared before Justice Indra Charles to learn his fate after his lawyer David Cash suggested that he receive a lesser sentence within the 30-60 year range set out by the Court of Appeal in the case authority of Larry Raymond Jones.
Prosecutor Uel Johnson had recommended a 40-year penalty for the killing of Butler's 81-year-old mother, Princess Butler.
Justice Charles, at the May 4 sentencing hearing, found that the mitigating and aggravating circumstances of Butler's case warranted a sentence of 35 years at the Department of Correctional Services to take effect from the date of conviction, January 27.
However, the time was reduced to 33 years after the two years spent on remand were taken into account. Justice Charles further ordered that Butler undergo counselling during his incarceration.
Butler had the right to lodge a challenge against both his conviction and sentence to the Court of Appeal within 21 days but an appeal was not filed within time, The Tribune has learned.
As he missed the 21-day deadline for filing an appeal after sentencing, he must first file an extension of time application for permission to be heard on appeal, which could be granted if he is able to convince the court that the challenge is likely to be successful.
Butler stood trial for 10 days in front of Justice Charles concerning the February 4, 2015, murder.
Mrs Butler was found dead in her home at Petersfield Road in Highbury Park shortly after 8am. An autopsy revealed that she died of asphyxia and as a result of finding facial bruises and internal injuries about her body, police launched an investigation.
Her son was arraigned in Magistrate's Court 12 days later in connection with the death. He pleaded not guilty to murder when formally arraigned in the Supreme Court three months later.
During the trial, the jury heard testimony from Corporal Chris Pickstock who presented photos and videos extracted from a Samsung Galaxy cellphone, allegedly owned by Butler.
According to Cpl Pickstock, the videos and photos were taken on February 4 at 6.30am and 6.34am.
During cross-examination by Mr Cash, Cpl Pickstock acknowledged that there were "a lot" of other videos and photos in the phone.
Crime scene investigator Constable 1800 Levar Neely said he took photographs of the crime scene on February 10. One of the photographs showed a suspected bloodstain on the bedroom floor, the jury was told.
The jury also heard testimony from Dr Austin Davis, who examined the body and said the initial death certificate indicated that the victim had died of natural causes, as he had found nothing peculiar about the body, except for a bloodstain on the sheet.
Sergeant 527 Basil Evans testified that he had questioned the 57-year-old at the Central Detective Unit on February 12, 2015, concerning his alleged involvement in his mother's murder.
During his video recorded interview with police, Butler denied suggestions that he had physically attacked his mother and choked her to death because of an argument over money he had spent on his girlfriend.
Mr Johnson and Alicia Delancy prosecuted the case.