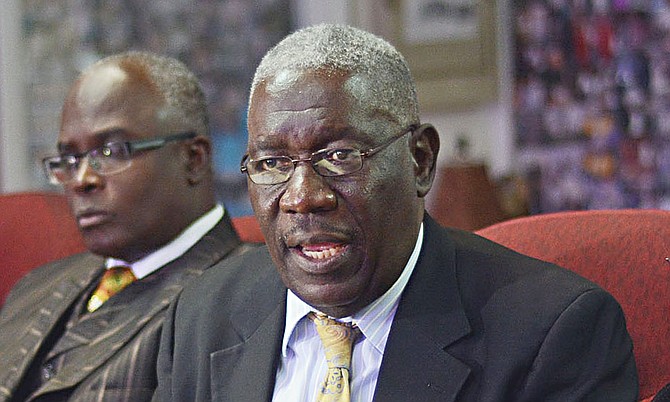 By NICO SCAVELLA
Tribune Staff Reporter
nscavella@tribunemedia.net
A PROMINENT pastor has endorsed the recent call by senior police officers for wanted suspects to turn themselves into police custody, charging that he would be willing to personally "escort" those persons to police before things get "bloody" between both sides. 
Bishop Simeon Hall, Pastor Emeritus of New Covenant Baptist Church, called on those wanted by police, particularly those wanted for serious crimes such as murder, to turn themselves in "before the police get them and have to take them in (or) before the mortician got to take them in."
Bishop Hall also said he is "watching" to see if the Free National Movement administration will implement policies that will "send a strong message" to criminals, as he said the change in government "hasn't bothered the criminal element in the country one bit".
Last Friday, senior police warned the country's criminal element that there is a "short time" to turn themselves into police custody, as they pledged to immediately take a "zero tolerance approach" towards crime and its perpetrators. 
At the time, Senior Assistant Commissioner of Police Stephen Dean said the RBPF would be "turning up the heat on criminals on the road", so much so that they have a "small window to operate" in whatever "comfort zone" they are in to evade police capture. 
ACP Dean specifically directed his admonitions to eight men wanted in connection with murder. However, only one, 45-year-old Ronald "Ronnie" Nottage, has been arrested since last Friday, according to reports. 
"I would want to join the police in making that call to these young men, they are our sons, and I would make the plea to tell them to turn themselves in," Bishop Hall told The Tribune. "And I would be willing to escort them and I'm sure there are pastors who would be willing to be the mediators for them if they want to turn themselves, before the police get them and have to take them in (or) before the mortician got to take them in. 
"I think there were eight of them and I only heard of one that turned himself in, and so before it gets bloody we ask them to turn themselves in."
Bishop Hall, who has been vocal about the country's crime woes, particularly under the former Christie administration, further charged that notwithstanding the RBPF's stern warnings, the Minnis administration must implement policies that would act as a strong deterrent to criminal activity. 
"In a nutshell I'm waiting to see very hopefully and optimistically that they will implement some things that will send a strong message to the criminal element," he said. "You notice that in the last month we've had several murders and so the criminal element isn't afraid in the new change in government, as overwhelming as it has been. 
"It hasn't bothered the criminal element in the country one bit. And so we have to wait and see if they will implement something that will send a strong message to them."
He added: "I remember no less a person than the prime minister . . . he called for the death penalty on several occasions. I haven't heard anything relative to that. All I'm saying, the one thing I'd like to say is I shall be watching, very hopeful that they would send a strong message to the criminal element in the country. 
"And that has not been forthcoming by the old administration, and I think it's too early to say what this administration will do. But Brother (Marvin) Dames, the Minister of National Security, he was a former policeman, so he now has a chance to implement some of the things he articulated before the election." 
Meanwhile, retired Assistant Commissioner of Police Paul Thompson told The Tribune that he is "optimistic" in the Minnis administration's ability to tackle the country's crime issues, adding that he thinks that Mr Dames is "very capable" of tackling crime and is "on track" towards doing so.   
However, he called on the new regime to focus on tackling the "minor crimes" with the same aggression they pledged to tackle serious crimes with.
"Police morale is up and I expect it will go up even more now, that they have gotten their overtime pay and some of these things have been settled," Mr Thompson said. "And they are doing good work. All I'm hoping for, and I am seeing something started with that, is that they would tackle the minor crime as well as they've been doing the major crimes. I've been pushing for this all the time. Tackle the minor crime. 
"Get behind these people who have these strip joints, the people who are running the red lights, the motorcyclist who is riding without helmets and without (license) plates and bikes that (aren't) licensed, the people who are selling food without health certificates. Close down the shantytowns. That is something that I don't think any politician should be involved in that. They are breaking the law. "
He added: "(Mr Dames) is very qualified . . . he has the qualifications. He has good ideas, and I feel that he's going to do well. He must get the law enforcement agencies, thats the prison, immigration, the police, customs, and the defense force. There must be collaboration, the intelligence, the efforts that will be made to do things quickly as possible. 
"Right now I see the police when they respond quickly, they're catching people on the scene. And thats what we were fighting for for years. If we had the technology and could respond within three minutes or five minutes to the scene of a crime, you're likely to get results right there. And I notice that they're getting some results with that."