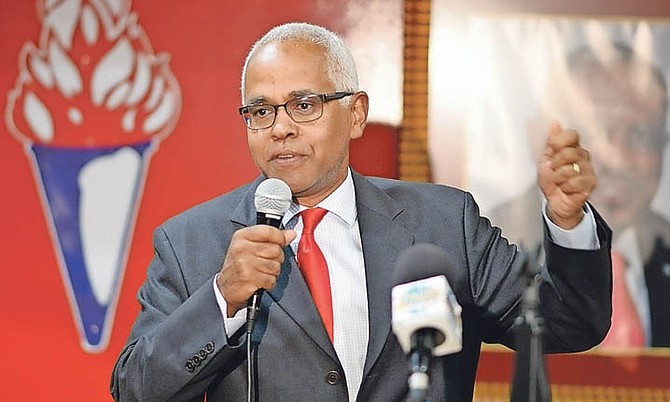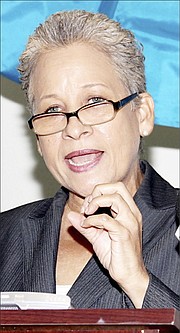 By TANEKA THOMPSON
Tribune News Editor
tmthompson@tribunemedia.net
A TENANT who operated five stores at the Lynden Pindling International Airport racked up a rental debt over five years of more than $3m under the Christie administration and was allowed to remain delinquent due to "direct intervention by the political directorate," Tourism and Aviation Minister Dionisio D'Aguilar revealed in the House of Assembly last night.
Even worse, he said, the tenant approached the Nassau Airport Development Company's (NAD) board of directors two months before the general election and was allowed to enter into an agreement to "write off" $1.2m of this debt on the condition that she give up one store and pay her balance.
While outlining what he suggested was a personal favour extended to the tenant because she was well-connected politically, Mr D'Aguilar questioned why the woman was not evicted from the airport despite five years of not paying rent.
He explained that this was the reason NAD's board was dismissed shortly after the Free National Movement won the May 10 general election.
His remarks drew rebuke from Englerston MP Glenys Hanna Martin and Leader of the Official Opposition Philip "Brave" Davis.
"In addition, Mr Deputy Speaker, you would have read in a local daily that this government upon assuming office sought fit to summarily dismiss the board at NAD because of its treatment of the amounts owed by a tenant in the LPIA," the Free Town MP said. "Mr Deputy Speaker there is a large tenant who operated five stores in LPIA. How she got five stores in the first place is mind-boggling to me and reeks of an all for me baby policy adopted by someone, sometime ago.
"Anyway, Mr Deputy Speaker, as soon as the government changed in 2012, this tenant stopped paying rent and by the end of December 2016 owed NAD $3.3 million. I am told that every effort that was made by NAD to collect this money was rebuffed by direct intervention by the political directorate telling NAD to back off and stand down."
Objection
This led Mrs Hanna Martin, who served as minister of transport and aviation in the last administration, to rise on a point of order.
"Free Town is going to learn that five years is a long time," Mrs Hanna Martin said. "The point of order is, I want the member, because I was the minister, I want him to tell this Parliament who he is speaking about when he says directives were given, I want him to say in this Parliament, he is saying the political directorate gave directions."
Mr D'Aguilar said he was not referring to Mrs Hanna Martin.
"You make sure, you indicate to this Parliament what you are saying," Mrs Hanna Martin continued. "The member must indicate to this Parliament who he is talking about. I want him to put on the record and to prove and to establish who he is referring to."
Mr D'Aguilar continued with his contribution, saying: "Maybe someone can explain why this receivable was allowed to grow to such an enormous amount without this tenant. . . "
However, he was interrupted by shouting from the Englerston MP.
Mrs Hanna Martin then stood and asked: "What is going on in this Parliament man? Throwing as much mud, innuendo and slack talk as you want against Bahamians in this place or outside this place. I'm asking the member if he can be specific, he is saying that there was political directives, I was the minister responsible and I am not going to allow that to stay on the record of this Parliament."
However, Deputy Speaker Don Saunders allowed the remarks to stay on the record.
"The chair sees nothing wrong, no breach made by Free Town, the chair is going to allow Free Town to continue his contribution," Mr Saunders said.
Mr Davis also rose to his feet to object to scurrilous statements being made in the House that cast aspersions on people.
However, the deputy speaker did not change his ruling, telling the Cat Island, Rum Cay and San Salvador MP that he was just repeating what was said by Mrs Hanna Martin.
'Favours'
"Maybe someone can explain why this receivable was allowed to grow to such an enormous amount without this tenant being evicted," Mr D'Aguilar continued. "I fear this is another case of connected people being granted special favours. Anyway, Mr (Deputy) Speaker, the story gets worse. The tenant fearing that the government may be changing, decided to approach the board of NAD and negotiated a deal where NAD would write off $1.2m of her receivables and allow her to pay the remaining balance over time if she would simply give up one store. The deal was signed on March 3, 2017, a mere two months before the general election and she is currently abiding by the terms of that agreement.
"However, the $3.3m, they wrote off $1.2m, however this FNM government takes grave exception to this tenant because of well-known connections being allowed to not pay her rent for five years and then having $1.2m of her outstanding rent simply written off by the board for no apparent reason. This board, in the view of this government, acted improperly, conveying and condoning special favours for persons who were not deserving of such and therefore they were summarily dismissed."
Mr D'Aguilar said the Minnis administration will investigate the agreement's legality with the view of having it cancelled. He warned the tenant in question to stay current with her rent in the meantime.
Mr D'Aguilar also spoke about concerns in the Ministry of Tourism, noting that one person was being paid $400,000 a year for "consulting services as it relates to cultural tourism."
"There is a contract with this individual drawn up, although I have yet to see a signed copy, in October 2014 and that persons is being paid over $1m under that contract to consult on cultural tourism," he said.
Adding that this "smells fishy," he said when asked what this person did for the $1m spent, senior tourism officials all agreed "that whatever he did produce, it was not in their professional opinion worth $1m."
He said the officials also agreed that the amount was "outrageous" and should not continue.
"When asked to shed some light on who ordered that these payments be made, they either had no knowledge of the terms of the contract and those that did said the instructions to pay the outrageous amount came from the very top of the former administration," Mr D'Aguilar said.