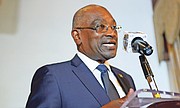 By DENISE MAYCOCK
Tribune Freeport Reporter
dmaycock@tribunemedia.net
WHILE in Grand Bahama on the weekend, Prime Minister Dr Hubert Minnis met homeowners who had received no government assistance with hurricane repairs to assure them that help was on the way.
Dr Minnis felt that repairs were being handled unfairly under the former Progressive Liberal Party (PLP) administration, which left many out of the process.

"It was politically motivated, and we believe in transparency and honesty, and we visited a few homes and will do all we can to repair those homes and get them ready for the new hurricane season," he said.
"Our administration (here in Grand Bahama) met hundreds of persons who received no help or incomplete assistance, and they are working to help those left out of the process.
"We are working diligently to bring relief to as many as possible. As the debate continues, you will see how irresponsible the previous government was in that some of the issues could have been addressed," Dr Minnis said, referring to their neglect of hurricane relief assistance to some individuals on Grand Bahama.

According to Dr Minnis, the Free National Movement (FNM) government is working tirelessly to ensure the recovery and revitalisation of Grand Bahama.

Pledging his administration's commitment to reduce the high unemployment on Grand Bahama, he indicated that talks are continuing with the parties interested in the Lucayan strip redevelopment.
Dr Minnis is hopeful that the talks will lead to the redevelopment and reopening of the strip in the shortest possible period.
"We also intend on boosting farming and the use of native fruits in Grand Bahama," the Killarney MP said. "My administration must implement a plan on Grand Bahama to achieve the long sought-after goal of creating linkages between agriculture and tourism to affect a significant reduction in the food import bill for hotels and restaurants, and provide additional employment.

"Grand Bahama has been suffering for a very long time, and the FNM and I had made a commitment that we will turn Grand Bahama around, to see Grand Bahama as it was when even I as a little boy worked here," he said.
Dr Minnis said that he went to Grand Bahama every summer and worked at the Princess Towers, installing carpets and drapery.
"I did that as a little boy, that was about 1969 when I was 13 years old and getting paid $105 per week."
"Imagine if we turn Grand Bahama around, $105 per week in 1969, you know what that is worth today? And that is what you will see happen here, and that is what will happen here."
When asked by The Tribune about his government's plans for the International Bazaar and the Royal Oasis properties which had been closed due to hurricane damage since 2004, he said they are looking at that area too and are in ongoing discussions.

"We hope to have a resolution so people can get back to work as soon as possible," he added.
On the issue of the cost of power, Dr Minnis said that electricity is a matter, not just of concern in Grand Bahama. He said officials are looking to address it through the implementation of a national solarisation programme.
"Grand Bahama is not excluded. We are blessed with national resources of the sun, and we must utilise it," he said.

The prime minister said that Minister of Works Desmond Bannister would address capital works projects. These include the water projects in East and West Grand Bahama, the Fishing Hole Road project, renovations to the West End Clinic, construction of the new administrative complex in Eight Mile Rock and new school in Holmes Rock, and major renovations and upgrade of the Rand Memorial Hospital on Grand Bahama.
Dr Minnis also met with staff at the Office of the Prime Minister in Grand Bahama. He said that the FNM is not about victimisation.
"We have been accused (of) one or two matters of victimisation - that is not our forte. All I ask is for individuals to be professional. I don't need to know how you voted; I don't want to know how you voted, that is your business, that's democracy. But if you work in here then don't bring your politics here, just work. If you bring your politics here then I will fire you," he said.

Since the election, Dr Minnis said Bahamians feel hopeful again.
"The country doesn't feel stressed anymore; it is as if a cloud of calmness and hope came across the country," he said.