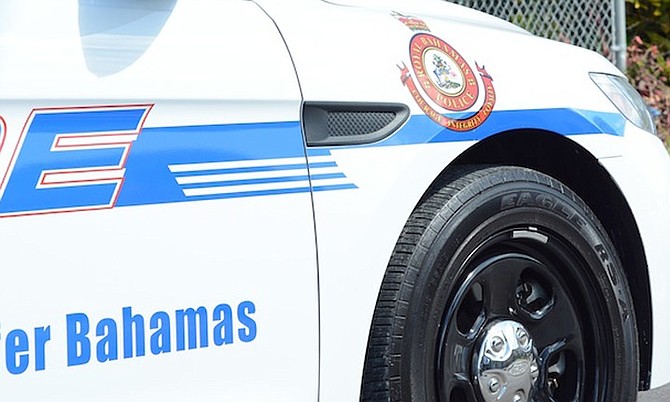 By Khrisna Virgil
Deputy Chief Reporter
kvirgil@tribunemedia.net
POLICE are investigating a shooting incident that left a man on bail for murder dead and another in hospital in serious condition.
The deceased was wearing an ankle monitoring bracelet, police said.
Police also reported that a man injured in a shooting last Monday in Abaco died of his injuries on Saturday at Princess Margaret Hospital.
In the latest incidents, shortly after midnight on Sunday morning, a man drove himself to East Street South Police Station and reported that while he was parked in his vehicle in the area of a school on Charles Saunders Highway with two male passengers, a man in a Honda vehicle shot him, according to police.
The man was taken to hospital where he is detained in serious condition.
Then shortly after 3am, police while conducting enquiries at the scene of the alleged shooting, discovered the lifeless body of one of the male passengers. He was pronounced dead at the scene.
"Police can confirm that the deceased was on bail for murder and was wearing an electronic monitoring device," a statement from the Royal Bahamas Police Force noted.
Investigations are continuing.
The killing marked the 68th homicide this year, according to The Tribune's records.
The victim in the Abaco shooting was a 23-year-old man from Murphy Town. He was shot in an incident on Monday last week.
Last week, Minister of Health Dr Duane Sands said the number one cause of death of the Bahamian male is a bullet and a recent crime study shows that between 2012 and 2015, 78 per cent of murder victims in The Bahamas died as a result of gunshot wounds.
Dr Sands said between 2012 and 2016, the Accident and Emergency (A & E) Department at the Princess Margaret Hospital (PMH) managed 8,000 assault cases, 1,229 stabbing cases, and 1,078 gunshot wounds.
Just last year, the health minister said the Emergency Room saw 1,272 assaults, 246 stabbings and 216 gunshot wounds.
"We are in the world leaders in ways that are destructive to our social and economic well-being. We are one of the leaders in trauma due to gunshots and stabbing. The probability of dying from these types of injuries far exceeds the risk of death from cancer or HIV/AIDS in the Bahamas," Dr Sands said in the House of Assembly.
"From 2012 to now, the Bahamas holds the distinction of having the 11th highest homicide rate in the world. We are one of the most violent countries in the world; we beat, stab, shoot and rape each other at an unacceptable rate. Our homicide rate is triple the rate considered by the World Health Organization (WHO) as an epidemic. It is largely due to the professionalism of our health care team that our murder rate is not dramatically higher. In the last few years the number one cause of death of a Bahamian male is a bullet, not a stroke, not diabetes, but a bullet."