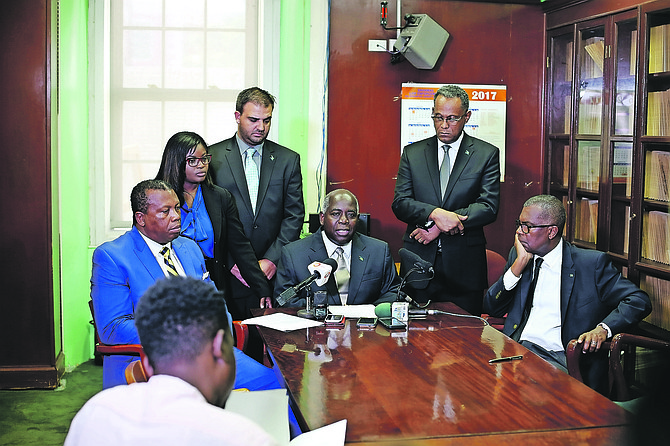 By RASHAD ROLLE
Tribune Staff Reporter
rrolle@tribunemedia.net
OPPOSITION Leader Philip "Brave" Davis said the procurement department of Bahamas Power & Light, without his involvement, gave a contract to Errington "Minky" Isaacs for remediation work after the latter submitted a bid for the contract.
During a press conference to respond to allegations against the Christie administration, Mr Davis also rejected criticism from Works Minister Desmond Bannister that he ignored the advice of technical experts in some concerning ways, saying if there are good reasons to depart from advice then such should happen.
His comment about Mr Isaacs came after Prime Minister Dr Hubert Minnis claimed in the House of Assembly Tuesday that Mr Isaacs received a $1.8 million contract—without the government seeking bids, even though contracts over $100,000 require bids or requests for proposals.
Dr Minnis made a similar claim about a contract worth more than $900,000 that was given to a Fitzgerald who owned a customs brokerage firm. It has been suggested this person is the father of former Education Minister Jerome Fitzgerald.
Mr Davis said yesterday that he had no information to respond to the allegation relating to Mr Fitzgerald, adding that he will continue seeking answers about it and other matters.
Concerning Mr Isaacs, Mr Davis said: "In respect of the allegation that Errington 'Minky' Isaacs received a no bid contract from BEC, this is false. The facts are that Mr Isaacs' company won a contract to assist in the clean-up of petroleum in Clifton Pier and Blue Hills Station at the BEC plant. I am advised that the contract was put out to bid and Mr Isaacs' company was the successful bidder. The issue here is not how much was paid but whether value for money was obtained for the work given. Our advice is that it was. It is important to note that the scope of works the subject matter of the contract had been in existence from at least 1997 with two other contractors having been engaged before the award to Mr Isaacs' company. The contract was issued following the established protocols––contracts were (awarded) to other companies during the years 1997 to 2002 and then 2002 to 2007 and then 2007 to 2013. In 2013 after a successful bidding process, Mr Isaacs' company received the contract."
Mr Davis said association with the PLP or FNM should not disqualify someone from bidding for work with state owned enterprises.
Asked what expertise Mr Isaacs had to perform the job, he said this was something that the procurement department of Bahamas Power and Light, formerly BEC, has to rationalise.
"I don't think it's unknown for people who don't have expertise to bid on a project and hire the expertise that is necessary," he said. "That is not unknown. It would then be for BEC to ensure he was carrying out the works in accordance with the arrangement that he did. If they were satisfied that he was doing it and had resources to carry out the contract, it's a matter for them."
Dr Minnis said Tuesday that with respect to the matters relating to both Mr Isaacs and Mr Fitzgerald, RFPs were issued and though bids were made, they were ignored; subsequently, he claimed, people related to the aforementioned matters were asked to submit contracts.
Advice
Earlier this week, Mr Bannister also claimed that advice of technical experts was ignored concerning projects related to the Bahamas Agriculture & Marine Science Institute (BAMSI), the post office building under construction at the Independence Shopping Centre and the construction of a primary school in Andros.
In the case of the post office, a traffic impact study was not done, design details were not submitted and an analysis of whether there would be ground contamination from the nearby gas station were not done.
With respect to the Lowe Sound Primary School in Andros, Mr Bannister said three inexperienced people were chosen to construct the building despite the warnings of technical experts.
Mr Davis said yesterday: "I don't have the files and I don't know in what respect he speaks to when he says technical advice would not have been followed. Suffice it to say, advice is advice and if there are sound and good reasons to depart from that advice the advice would not be followed. That is an incident of governing. If there is a sound and good reason to depart from advice we do so particularly when you are considering that advice against the betterment or better good of your people and you consider it in the context of good governance."
On the matter of the post office, he noted that challenges there caused the Ministry of Works to submit a stop order to cease construction.
And as for the primary school, Mr Davis said: "I would not respond to that. Files would demonstrate what happened and if he feels there is something untoward, do something about it."
More like this story