By SANCHESKA DORSETT
Tribune Staff Reporter
sdorsett@tribunemedia.net
FORMER Bain and Grants Town MP Dr Bernard Nottage died yesterday evening in a Florida hospital, according to a statement from his family.
The 71-year-old was airlifted to the United States on Friday after spending three days in the Intensive Care Unit at Doctors Hospital.
Dr Nottage is survived by his wife, the former Portia Butterfield, and their two sons.
In a statement, Dr Nottage's family described him as "a husband, dad, papa, brother, uncle, godfather, friend and a Bahamian nationalist."
The family expressed sincere thanks to everyone who "reached out" and thanked the management, staff and physicians at Doctors Hospital and the Cleveland Clinic in the United States "for the professional care rendered to him".
"Thank you everyone for your prayers, support and words of encouragement during this very difficult time. May his soul rest in peace," the statement said.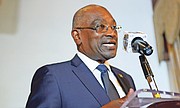 Last night, Prime Minister Dr Hubert Minnis also released a statement reacting to the death of his colleague and "friend".
"Dr Nottage was an outstanding medical doctor and political leader," Dr Minnis said. "But he was first and foremost a Bahamian patriot and native son, who at his core, was deeply committed to the development of The Bahamas and the Caribbean. 'BJ' as he was affectionately known to us all, was born into a sporting family and so it was no surprise that he went on to become an outstanding athlete and sports organiser.
"He nurtured generations of aspiring athletes in The Bahamas as well as in the region. He was one of those responsible for first bringing the Carifta Games to The Bahamas and he remained a committed patron of sports to the very end.
"Dr Nottage earned the trust and affection of many patients who found in him a fine medical practitioner who demonstrated an ethic of care and compassion. 'BJ' was a Bahamian patriot, whose high sporting profile led him to frontline politics which he used as a platform to advance national development and the common good. He was a dedicated member of the Progressive Liberal Party (PLP).
"He served for a time as chief executive officer and leader of the Coalition for Democratic Reform (CDR), along with
individuals such as the late Charles Maynard. The CDR was an incubator for many innovative policy and programmatic ideas which endure.
"Our compatriot, brother and friend, 'BJ' has finished the race. He has passed the baton on to a new generation of Bahamians. His commitment, caring and all around good nature will be missed."
Dr Minnis said in due course, the government will announce an appropriate tribute "to this Bahamian patriot."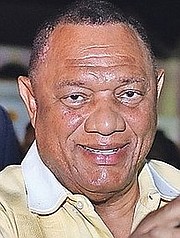 Former Prime Minister Perry Christie also paid tribute to his former colleague in government.
He said in a statement last night: "It was with profound sadness that I received the news that my political colleague and very dear friend of more than 60 years, Dr Bernard J. Nottage, passed away this evening.
"Dr Nottage was a man of great accomplishment in the spheres of politics, medicine, and athletics. He served as a Cabinet minister in three separate PLP governments: first, under Sir Lynden Pindling, as Minister of Consumer Affairs & Utilities, and later as Minister of Education; then in my first Cabinet as Minister of Health, and in my second Cabinet, as Minister of National Security and Government Leader in the House of Assembly.
"For most of this parliamentary career, Dr Nottage was the Member of Parliament for the Bain Town area of New Providence. In each of his ministerial assignments, Dr Nottage won high praise for his competence, unswerving dedication to public duty and for his absolute incorruptibility. It is particularly noteworthy in this latter regard that throughout his lengthy years in politics, there was never so much as a whisper of ethical impropriety uttered against him. He was a public servant extraordinaire and a patriot of the highest order who, to the end of his days, gave the very best of himself to the service of the Bahamian people.
"Dr Nottage entered frontline politics after a distinguished and successful career as a medical practitioner, specialising in obstetrics and gynecology. He was widely sought after for his expert skills as a surgeon and for his uncompromising dedication to his patients. A perfectionist in the practice of his profession, he was held in great esteem as one of the leading role models and mentors for doctors in our country. Of particular note, he served at various times as both President of the Bahamas Medical Association and President of the Doctors' Union.
"Dr Nottage was also a gifted athlete and sportsman. He was an outstanding sprinter in his youth and represented The Bahamas in a number of important international sports competitions, including the 1962 Central and Pan American Games and the 1964 Tokyo Olympics. He was also for many years the President of the Bahamas Amateur Athletic Association and a tireless proponent of regional and international athletic competition for our young athletes.
"Speaking personally, BJ and I were friends from a very early age. While attending university in the UK, we developed our political interests in tandem with each other. Indeed in 1966 while studying abroad, we co-founded UNICOLL, a political action group and think-tank which was the first organization to mount a sustained campaign calling for Bahamian decolonisation and independence.
"I extend my deepest condolences to BJ's wife, Portia, his son, Brian, and their entire family, including Dr Nottage's siblings, Kendal, Sandra and Philip. This is a great loss for them and for our entire nation. May the soul of this great Bahamian rest in peace."
Last Wednesday, scores of family members, friends and former colleagues descended on Doctors Hospital as reports of Dr Nottage's critical state began to circulate.
There were also false rumours on social media at the time that he had died.
However, those claims were later debunked by a family statement which clarified his condition and asked for continued privacy.
Party sources have speculated that the former minister of national security was suffering from cancer, however his sickness was never revealed publicly.
Dr Nottage has faced two public health scares this year - appearing ill during a campaign rally in late April and becoming disoriented when he addressed the House of Assembly in February.
'Patriot'
Leader of Opposition Business in the House of Assembly and PLP member of Parliament for Englerston, Glenys Hanna Martin said her "friend and colleague will be truly missed."
"His life was a great victory and he was a true son of the soil," she said.
"'BJ' Nottage is a product of a post-1967 Bahamas, highly accomplished and highly achieved. He became one of the most distinguished medical practitioners in the country. He was also an outstanding athlete. He mentored so many people and he will be missed by so many. He gave us decades of distinguished services. I appreciate, so much, the interactions I had with him on a personal level in terms of his sense of humour and he was so personable and very, very, very bright man," Mrs Hanna Martin said.
PLP Senator Fred Mitchell last night said he was "deeply saddened" by the news.
"He and I served in the Parliament, the Cabinet, in the party," Mr Mitchell noted in a statement. "We were at one time co-dissenters. We travelled the road of public life in all its phases.
"Each year with our mutual friend Dr Franklin Walkine we gathered at Christmas Day for breakfast with our friends. The gathering in the last few years was only three. We toasted last year not knowing but also realising that one or other or all might not return this year. It is now only two.
"He was the consummate perfectionist. He was a patriot. He loved the Bahamas. He loved the people of Bain and Grants Town and Kennedy where he served as MP."
Former member of Parliament for Fort Charlotte Dr Andre Rollins also offered condolences to the Nottage family yesterday, describing him as a "distinguished gentleman."
"Surely, at times politics sought to make a caricature of him but he was indeed a man of substance and character," Dr Rollins posted to Facebook. "His job was one of tremendous stress for which he suffered immense criticism. However, he carried himself with dignity and strength.
"He made no effort to make politics a business of personal enrichment or self-aggrandisement. He was a nationalist. I thank him for his sacrifice on behalf of our nation. "My condolences to his wife, Portia Nottage, and his entire family. May he rest in peace."
Early life
Dr Nottage was born in Nassau on October 23, 1945 to the late Bernard Nottage Sr and Olevia Nottage.
He received his training as a gynaecologist at the University of Aberdeen, Scotland and The Royal College of Obstetricians and Gynaecologists.
An outstanding athlete in track and field, Dr Nottage was also a long-time president of the Bahamas Amateur Athletics Association (BAAA).
Over the course of his political career, Dr Nottage served as a Cabinet minister in one Pindling administration and two Christie administrations.
Dr Nottage was first appointed chairman of the National Insurance Board in 1982.
In the subsequent general election in 1987, Dr Nottage successfully contested the Garden Hills constituency.
In 1989, Dr Nottage was appointed minister of consumer affairs and then minister of education in 1990.
However, Dr Nottage left the Progressive Liberal Party (PLP) to assist in the formation of the Coalition for Democratic Reform (CDR) and was elected leader of the third party in early 2000.
Dr Nottage unsuccessfully led the party into the 2002 general election.
In 2005, he returned to the then governing PLP and was afterwards appointed to the Senate.
Three months later, Dr Nottage was appointed Minister of Health and National Insurance by then Prime Minister Perry Christie.
In 2007, Dr Nottage was appointed leader of opposition business in Parliament and in 2012 leader of government business in Parliament. He served as minister of national security from 2012-2017.
Dr Nottage was defeated in the 2017 general election by 22-year-old Travis Robinson in the Bain and Grants Town constituency.
He was a member of the Anglican church community.