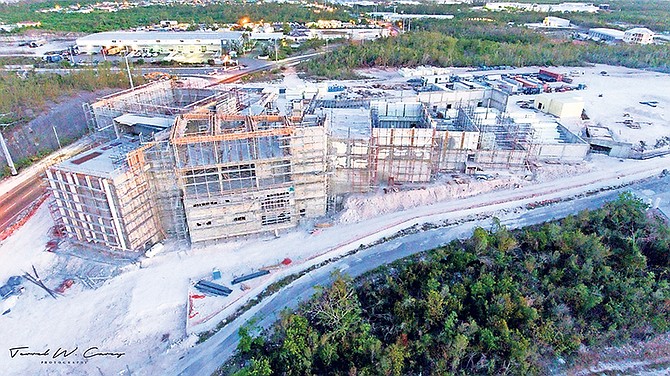 By NEIL HARTNELL
Tribune Business Editor
nhartnell@tribunemedia.net
The all-Bahamian investor group behind a $42 million, IMAX-centred entertainment destination yesterday said it expects to attract "north of 800,000" persons annually to "a facility the world can admire".
Carlos Foulkes, the Atavus Group's chief executive, told Tribune Business that the IMAX theatre would serve as "the anchor attraction" for the 100,000 square foot complex currently being built at the junction of Gladstone Road and JFK Drive.
Revealing that the family entertainment centre, to be called Fusion Superplex, had been in development for some 12 years, Mr Foulkes and his fellow Bahamian investors pledged to create an "iconic" experience that could match the world's best through the "largest IMAX screen in the Caribbean".
He added that the project would "initially" create jobs for 125-150 Bahamians, with the Fusion Superplex's opening targeted for the 2018 first quarter. Some 200 persons are currently working on the complex's construction under lead contractor, Wooslee Construction.
Mr Foulkes explained that himself and his three partners were creating a destination product, akin more to a resort or a shopping mall-type complex, rather than just a pure movie theatre.
Apart from the nine theatres, including the five-storey IMAX and 4DX (four dimensional experience), Bahamians will also be able to enjoy a glass-encased rooftop restaurant with views over Lake Cunningham towards Baha Mar.
Targeted at all age ranges and tastes, the Fusion Superplex will also include an indoor playground and Children's Daycare Centre, plus an arcade area and the normal movie theatre drinks and food concessions - including a Starbucks coffee lounge and Sub-Zero ice cream that is made from liquid nitrogen.
"We decided to design a facility that the world can admire," Mr Foulkes told Tribune Business. "The vision for the company was to advance the entertainment experience.
"We had a desire to improve the entertainment experience in the country, not only for ourselves but we thought the Bahamian people deserved a better experience."
Mr Foulkes explained that he and his Atavus Group partners were all former school friends who, after going away to college, had returned and reconnected to pursue their dreams of investing in a business in their homeland.
Together with colleagues Dominic Richards, chief operating officer; Tecoyo Bridgewater, director and in-house legal counsel; and Demarco Gibson, chief of security, facilities and maintenance Mr Foulkes has been working to bring the Fusion Superplex concept to reality since 2005.
Besides investing their own monies, Atavus Group was able to raise the necessary financing from other investors via a private placement offering (PPM) and commercial bank financing.
Mr Richards told Tribune Business that obtaining the necessary financing became much easier once Atavus Group obtained a 22-year license for the IMAX product, exclusive to the company, in 2013.
Explaining that this gave Atavus Group instant credibility, Mr Richards said it would offer "the most advanced display system in the world" and "the most advanced sound system".
"What we have is in less than 1 per cent of theatres in the entire world. That's the level we think Bahamians need to be at, " he told Tribune Business.
"It's more than just the movies," Mr Bridgewater added, emphasising that Atavus Group's financing did not include contributions from any politician or web shop gaming sources.
"Even though we were being turned down by bank after bank, we refused to entertain offers that compromised the integrity or scope of what we set out to achieve," he added.
"We are very focused on Bahamian ownership, but not at the risk of accepting backing from anyone or any organisation that would tarnish what we are offering; quality family entertainment and wholesome experiences."
Mr Foulkes said the complex, which aims to attract an annual customer base that is around three times' New Providence's population, would generate multiple revenue streams besides the movies.
"On an annual basis, we expect to be north of 800,000," he told Tribune Business. "The total seating capacity is 1,520 seats, and we have an additional 100 seats in the restaurant, 125 on the terrace, 250 in the Kids Daycare Centre, and 150 in the Arcade.
"At full capacity, with all the seats occupied and people hanging around the lobby, this facility can hold 3,000 people at once."
Mr Foulkes said the Fusion Superplex's grounds could accommodate a further 500 persons, and they - along with the facility - could be used for corporate events, church groups, weddings and private functions.
Mr Richards added that the complex's design was "more of an Asian model". While a Thai-based firm, the Office of Bangkok Architects (OBA), had developed the initial concept drawings, the Atavus Group handed everything else over to Bahamian consultants.
A. K. Rolle & Associates "have been leading the design and development ever since", with modifications made to the original plan as construction progressed.
Atavus Group and its contractors began site clearance and levelling efforts in January last year, with the foundation poured in September 2016 prior to the start of vertical construction.
"We were looking for some place centrally located," Mr Foulkes said of Fusion Superplex's home, overlooking the Airport Highway and JFK Drive/Gladstone Road roundabout. "The heart of the island, something easily accessible from out east and west, and close to the tourist destinations.
"While this is built for Bahamians, we recognise that largely this is a tourist country, and wanted to build something" that would impress and attract visitors.
Mr Foulkes said Atavus Group was projecting that 10 per cent of its customer base could be tourists, although it had the capacity to accommodate numbers greater than this estimate.
While declining to reveal financial projections, Messrs Foulkes and Richards said Atavus Group's forecasts were "conservative" and below average movie industry occupancy standards.
Mr Foulkes said the group had initially sought to acquire land from the Government, before purchasing the current site that was not even formally for sale.
He added that they had already obtained government approval to expand northern Gladstone Road from two lanes to four, given the "need to improve traffic flow" to both the Fusion Superplex and other nearby businesses.
The Atavus Group chief executive added that the complex would also have a "built-in air filtration system" to combat any further blazes and pollution from the nearby New Providence landfill, promising that the developer will add its voice to those "agitating" for the problems to be resolved.
The Fusion Superplex is also planning to exploit its 37,000 square feet of roof space by fitting it with solar panels, in a bid to tap into renewable energy and lower its electricity costs.
Mr Foulkes said the opening date would be pinned down as construction neared completion, and added: "We want to give time to train our staff
"There's a lot of technology in the building, and we want them to have skill sets so they can operate it with a level of expertise. This is a hotel-type of experience, and we want the service level to be just like that. That takes time."
Mr Richards told Tribune Business: "If you want to be iconic, do something that stands the test of time, you research the product properly. There's a huge need for this in this market.
"When you look at what we've done, we haven't taken any short cuts. We spent years in research, we took the time to build our resources in terms of the technology, and took the time to employ the right expertise and professionals.
"The biggest challenge our group faced is making sure the experience is what it needed to be. Bahamians are very peculiar, and want something that's a cut above."