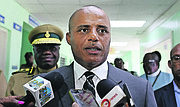 By KHRISNA VIRGIL
Deputy Chief Reporter
kvirgil@tribunemedia.net
NATIONAL Security Minister Marvin Dames said the government is not "totally satisfied" with the crime situation as he insisted that Bahamians should have already started to see some elements of the Minnis administration's crime plan manifested in various communities.
Speaking to reporters yesterday, the Mt Moriah MP said increased visibility and a more strategic approach to inner-city crime hotspots are a part of the government's short-term approach.
While there have been 69 murders for the year, according to The Tribune's records, 16 of these have occurred since May 10, under the Free National Movement government's watch.
"As you can see already, one of things we are addressing through the police is increased visibility (and) a more strategic approach to addressing the problems of inner-city crimes as it relates to patrolling and so how do we deal with those hot spot areas," Mr Dames told reporters following the Royal Bahamas Defence Force's change of command ceremony.
"It's not just a matter of vehicles and people. What we are saying is we want to use current technology and new technology to pin point exactly where these issues are and then we introduce the level of patrol to mitigate the problems within these communities. So these are short-term measures.
"Another thing that we are looking at too is a multidisciplinary approach for a preventive approach to addressing community ills. So we are looking at some of the programmes that are geared toward the young people, the youth, the at-risk persons. When we say multidisciplinary, I'm speaking principally about what is national security, social services, education and youth doing in conjunction with each other to steer our young people away from crime and violence. We are pretty pleased with the progress we are making.
"(But) we are not totally satisfied because obviously there is still a lot of work to do in terms of how do we structure these agencies to enable them to respond to the problems in these communities."
The minister said the government aims to do away with manpower issues, which are often complained of, especially in emergency situations.
"So one of thing our government continues to say is we want to take an approach where we carry out a full manpower audit of all of these departments to determine whether we have sufficient numbers to deliver the service to these communities. We are about to commence that very shortly so that we can ensure that if a person picks up the phone and telephones the police station no longer will the officer say we don't have a car or persons (to respond).
"And so that's more strategic but it is very important to the delivery of police services to communities in the Bahamas," Minister Dames said.
On Monday, Commissioner of Police Ellison Greenslade said the country was "recycling" prolific offenders due to less than firm punishments.
Addressing the press shortly after he launched the Royal Bahamas Police Force's (RBPF) 24th annual Youth Summer Camp, Commissioner Greenslade argued that no amount of arrests and aggressive police tactics could limit crime if "the people who are coming into the system, that is the bad people who are committing crimes, very serious crimes in this county, are not dealt with in a very firm way."
Commissioner Greenslade contended that there is nothing law enforcement officers can do to prevent re-offenders if the punishments being handed down are not seen as deterrents to criminals.