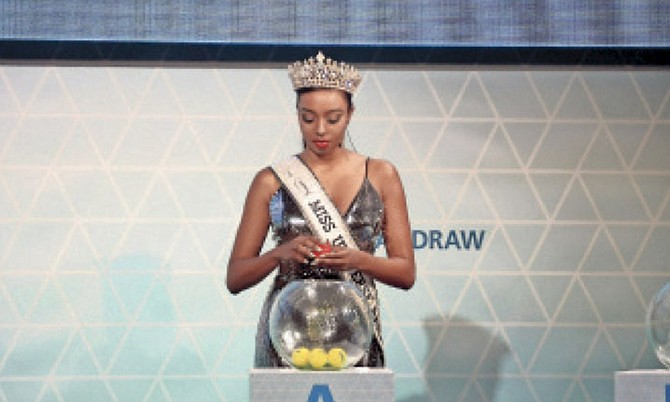 FIFA BEACH SOCCER WORLD CUP BAHAMAS
Nassau, April 27
to May 7
Group A
Bahamas
Switzerland
Ecuador
Senegal
Group B
Nigeria
Italy
Asia champions
Mexico
Group C
Asia second place
Paraguay
Portugal
Panama
Group D
Brazil
Tahiti
Asia third place
Poland
The three Asian qualifiers will be decided on March 11
By BRENT STUBBS
Senior Sports Reporter
bstubbs@tribunemedia.net
As hosts, Bahamas was drawn as the top seed to play out of Group A against Switzerland, Ecuador and Senegal in the FIFA Beach Soccer World Cup in April at the Malcolm Park beach soccer stadium.
Last night, a colourful ceremony was held in the Atlantis Theatre on Paradise Island where the audience got a taste of the culture of the Bahamas and a glimpse of what to expect from the 16 participating teams when they compete April 27 to May 7.
Prime Minister Perry Christie headed the list of delegates, and he lauded the partnership that has been forged between FIFA and the Bahamas Football Association, noting that the event will get to showcase the Bahamas as never seen before.
Also in attendance were Anton Sealey, president of the BFA, Jaime Yarza, head of FIFA events, Joan Cusco, executive vice president of Beach Soccer Worldwide, Minister of Youth, Sports and Culture Dr Daniel Johnson and Opposition Leader in the House of Assembly, Loretta Butler-Turner.
Drawing the names of the teams out of four pots was FIFA legend Emerson Ferreira and Cherell Williamson - Miss Bahamas Universe 2016 - did the honours of picking the positions they were placed in the four groups.
"The draw is a very good one. We have a tough draw playing against Switzerland, who is one of the top teams in the world," said Bahamas head coach Alexandre Soares, of Brazil.
"Senegal is the African champions and Ecuador has been improving every year in South America. The three teams are different characters. Switzerland play one way, Senegal play another way and Ecuador has another style of playing, so we have to be ready."
Soares, who has been assisted by Stephen Bellott with the national team that just finished sixth in the CONCACAF Beach Soccer Championship that concluded on Sunday at the same facility, said the public can be assured that the Bahamas will be ready.
He noted that the team would be assembled next week to start the final process of the team selection and fine-tuning for the World Cup that starts in six weeks.
Gavin Christie, who served as the captain of the CONCACAF team, said the BFA and the players are all excited about the draw.
"At this level it doesn't matter who is in your draw. They are all going to be very tough games," he stated.
"One thing that is noted is that you have three different teams with three different styles of play, it's going to be a lot more work because it's going to be three different styles of play that we will have to face."
In preparation for the teams, Christie said they will have to view a lot of videos, looking at what styles and formats that each of them use, who are their top players, so that they can counter with a system against each of them.
"It's no one style fits all in this group," he insisted. "We will definitely be ready."
The Bahamas, ranked at number 44 in the world, will face Switzerland, who is pegged at No.6; Senegal at No.25 and Ecuador at No.22.
Switzerland's head coach Angelo Schirinzi said he's very happy to play the first match of the tournament against the Bahamas as the host team.
"We know this team very well. We are very good friends," he said. "They has two months in Switzerland and so I'm very happy to play against the host team. It's a great honor for us to play in this spectacular stadium.
"I was here for the final day of the CONCACAF qualifier and we saw all of the photos going around the world. It's a wonderful stadium to have for beach soccer and for the World Cup."
Schirinzi, however, said they don't want to count out the other two teams in their pool as Ecuador is also very strong and Senegal is the champions from Africa, so it's not going to be an easy draw.
"I saw all of the matches in Ecuador in their qualifier," Schirinzi said. "So it's not a very experienced team, but it is a surprising team. It's not that quality that we know from Europe and Senegal is very strong with some very good players."
Looking at the transformation that Team Bahamas has made since they first arrived in Switzerland to train for the CIONCACAF tournament to what they have achieved last week, Schirinzi said he's impressed.
"They improved a lot and they have some outstanding players like Lsly St Fleur and Kyle Williams and a captain in Gavin Christie, who is a good leader," he stressed. "I think they have improved a lot since they played tournaments in Estonia where they beat Estonia.
"They also played in Italy and in Switzerland. They also played against the USA and they beat the USA in Switzeralnd. I think the Bahamas did a great work. I am proud of the federation for what they are doing for this sport, not only the team, but also the stadium.
"This is a milestone for beach soccer to have a stadium like this. So this tournament is a milestone and the Bahamas is doing a really good work. I'm very proud of them. I'm proud of both the federation and the team."
With the winter weather in Switzerland, Schirinzi said it's very difficult for them to train outdoor, but it's not the same training indoors.
He said they would head to Spain for a training camp and then come to the Bahamas to complete their training. He assured the Bahamas that Switzerland would be ready.
Drawn to play in the respective groups are the following:
Group B – Nigeria, Italy, Asia champions (to be decided by March 11) and Mexico, runners-up at the CONCACAF Championships.
Group C – Asia 2 (to be decided by March 11), Paraguay, Portugal (defending champions) and Panama (the champions of CONCACAF).
Group D – Brazil (winners of four of the eight championships played so far); Tahiti, Asia 3 (to be decided by March 11) and Poland.
The championships got started in 2005 in Brazil and was won by France over Portugal. Brazil finished third. Brazil also hosted the next two in 2006 and 2007, winning over Uruguay and Mexico respectively.
France hosted the 2008 championships that was won by Brazil over Italy and they repeated as champions in United Arab Emirates in 2009 over Switzerland.
The 2011 championships went to Italy and won by Russia over Brazil. Russia defended their title over Spain in French Polynesia in 2013. At the last championships in 2015 in Portugal, the host country won over Tahiti.
How will the Bahamas fear in its debut? Only time will tell.
One thing is for sure. The teams will be coming to play in one of the best stadiums around the world.
The audience got a chance to hear the new FIFA World Cup song "Pure Good Vibes" that was sung by Ric Carey. There was also a rake-and-scrape performance and the night ended with the rhythmic sounds of junkanoo.