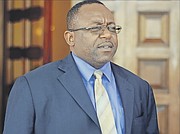 By LAMECH JOHNSON
Tribune Staff Reporter
ljohnson@tribunemedia.net
A LAWYER yesterday offered an apology and explanation that he never intended to impugn the professional reputation of a judge through a series of affidavits he created in support of a recusal application from an ongoing judicial review to which he is a party.
Keod Smith and his lawyer, Elliot Lockhart, QC, appeared before Justice Rhonda Bain for the start of his contempt hearing to show cause why he and his then lawyer Derek Ryan should not be committed to prison concerning a series of affidavits filed by Mr Smith in January 2014.
Only Mr Smith was present in court by the time the matter was called yesterday. Mr Ryan was a no show.
Mr Lockhart, at a previous hearing in December 2016, had asked for the court to indicate precisely what the allegations were against his client.
The judge referred the lawyer to the 10 offensive paragraphs in the fifth affidavit filed by Mr Smith, then five paragraphs that were in the sixth affidavit and another five in the seventh affidavit filed.
Mr Lockhart, during the two-hour hearing, then went through each of them before an adjournment was granted to March 1 to allow Mr Smith to produce a defence, witnesses and/or evidence that said that the accusations were not contemptuous.
When the matter was called yesterday, Crown attorneys Loren Klein, Darcell Smith-Williamson and Hyacinth Smith appeared in amicus as a neutral party to the proceedings.
Mr Klein offered the court a number of authority cases for considering including that of the Court of Appeal decision of Maurice Glinton, QC, who was, in October 2015, fined $15,000 for his words and actions during an extradition appeal that he contended were not contemptuous.
After the submissions on the law concerning contempt/committal proceedings, Mr Lockhart called Mr Smith to produce his defence as had been ordered by the court.
Mr Smith said the affidavits in question had been prepared at the time when he represented himself in the judicial review proceedings that included Prime Minister Perry Christie, Deputy Prime Minister Philip Davis, Minister of Transportation Glenys Hanna-Martin, the Town Planning Committee and Canadian fashion mogul Peter Nygard whose residence, Nygard Cay, is the subject of said judicial review.
"Did you have assistance of counsel when you made these?" Mr Lockhart asked.
"Not at the time," Mr Smith said.
Mr Smith said his memory was not the best but recalled being directed by the court to re-file documents.
View
"At the time the affidavits were made, did you have a particular view of the proceedings?" Mr Lockhart asked.
"Yes. I was of the view that as a private citizen I should not be subject to judicial review and had filed an application to be removed," Mr Smith said.
He was asked if he had made an application for Justice Bain to be recused. Mr Smith said he did but asserted that he was not represented at the time and that Mr Ryan's firm was eventually instructed to represent him.
"When he got involved, he was of the view we should make an application for it (the recusal) to be withdrawn," Mr Smith added.
"Did you move the application for recusal?" Mr Lockhart asked. Mr Smith said he did not.
"Were these affidavits ever read into the record on your behalf?" his lawyer asked. Mr Smith said no.
"Did you ask that they be expunged?" Mr Lockhart further probed.
"Yes and by that time Mr Ryan had been replaced by Norwood Rolle," Mr Smith answered.
Mr Smith said the creation of the affidavits at the time were for the purpose of having the matter placed before any other judge due to conflicts "in my mind."
"I did not think. I wanted to exercise my right to have Justice Bain recused based on conflicts I'd accessed in my own head," the lawyer stressed.
"Did you at anytime give instructions that upon (expunging) of the affidavits, you were prepared to give an apology to the court?" Mr Lockhart asked.
"Yes I did. I thought it would be proper to offer the court my apology for whatever parts I would've done that amounted to scandalising the court," Mr Smith said.
"I still do wish to offer my apology to Justice Bain and this court for any and all matters set out from those affidavits," Mr Smith added, while stressing that they were not "calculated to do anything to diminish the court."
In the afternoon session of the proceedings, Justice Bain referred Mr Smith to the notice of appointment of Mr Ryan's firm filed to the court and parties in the proceedings on November 11, 2013.
Obie Ferguson was also named as his lawyer on the appointment, but he acknowledged that the affidavits in question bore the signature of Mr Ryan's firm.
However, Mr Smith said neither Mr Ryan nor Ferguson aided him in preparing the affidavits.
"Do you recall when you filed a summons for this court to recuse itself?" the judge asked.
Mr Smith said he did not but acknowledged that the notice to withdraw the recusal application had not come until September 2014.
Decisions
In January 2014, Mr Smith had filed a series of affidavits claiming that Justice Bain should recuse herself from a judicial review proceeding as she had allegedly made a series of decisions based on her affiliation with the Free National Movement.
Ten months later he attempted to withdraw the applications for the recusal of Justice Bain.
He alleged the judge once worked under former Prime Minister Hubert Ingraham, that she was appointed to a high-ranking position in the Attorney General's Office because of her ties to the FNM and that her two sons were fathered by a person he claimed is a close friend and advisor of Mr Ingraham.
Mr Smith claimed that Justice Bain had made several rulings in favour of attorney Fred Smith, QC, who in the past had been affiliated with the FNM, and "can only be explained as coming about as a result of her bias."
Mr Lockhart claimed in December that the contents of the documents were not contemptuous and were either a matter of public record or could be proven if his clients were given adequate opportunity to do so.
He also said that Mr Ryan should be absolved from the proceedings because although his law firm's name appeared on the affidavits, they had been created and filed by Keod Smith.
The current committal proceedings stem from a judicial review application filed by the Save The Bays – formerly the Coalition to Protect Clifton Bay – which is challenging an application by Peter Nygard to further develop his Mayan-themed development in Lyford Cay and gain a lease for Crown land reclaimed from the sea without official approval.
The coalition claims that over the last 30 years, Nygard Cay has nearly doubled in size as a result of construction works undertaken without the appropriate permits and in a manner that had caused significant damage to the surrounding environment of Clifton Bay.
Fred Smith, QC, Romauld Ferreira, and Dawson Malone appeared for STB yesterday.
Gia Moxey appeared with Mr Lockhart.
Tommel Roker held watching brief for Wayne Munroe, QC, who also appears for the Crown in this matter.
The hearing was adjourned to March 6 at 2.30pm to allow Mr Lockhart to respond to the authorities supplied by Mr Klein and give closing submissions.