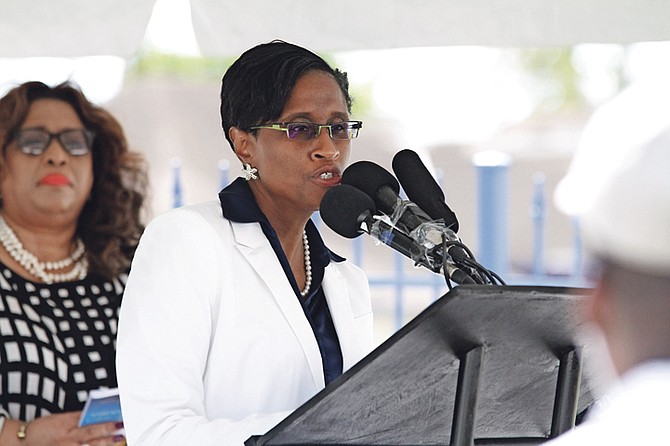 By NICO SCAVELLA
Tribune Staff Reporter
nscavella@tribunemedia.net
BAHAMAS Power & Light CEO Pamela Hill on Friday expressed optimism that the company will be able to meet generation demands heading into the summer peak season. 
Ms Hill, in an interview with The Tribune, said she feels "very good about the level of work that our employees have conducted and our ability to be ready for the summer".
These efforts, she said, include taking key units at both its Clifton Pier and Blue Hills power stations that will be utilised the most offline, one at a time, and conducting "major maintenance" on them. 
Ms Hill also said the company is taking steps to strengthen its transmission and distribution networks, adding that "summer readiness work" was underway in the Family Islands. 
Last month, The Tribune reported how BPL, in an internal memo sent to the government and obtained by this newspaper, provided assurances that the overhaul and maintenance of generators at both Clifton Pier and Blue Hills will be completed ahead of the summer peak season. 
That report came after two island wide outages, and another major outage that occurred between November 29 and December 4 last year, which BPL said stemmed from widespread equipment failures at the Clifton Pier Power Station. 
The memo, dated December 12, outlined a "comprehensive strategy to mitigate future occurrences of a similar nature."
Those include the installation of supplemental transmission circuits between Big Pond and Blue Hills, which the company expects to complete within the first quarter of this year. In two cables, faults were repaired and returned to service--with one of those cables requiring the assistance of a fault location expert from American utility provider Southern Company. 
As for generation, BPL noted in the memo that all overhaul activities to generators at the Clifton station, inclusive of auxiliary systems, would be completed by April – ahead of the summer peak season. 
Speaking to the overhaul of one of its largest units at Clifton, BPL's memo said that the major overhaul planned for January would "enhance its preparedness and/or performance for the 2017 peak load season."
"We are in fact in the midst of our summer readiness initiative and our summer readiness programme," Ms Hill said when questioned on the matter on Friday.
"And essentially what that involves is making sure that we take our units that are going to be calling on the most, that we take them offline. Not all at once, one at a time, and conduct major maintenance on them. And so we are in the midst of doing that at Blue Hills as well as at Clifton Pier and we're also are doing summer readiness work in the Family Islands. 
"Beyond generation we are also strengthening our transmission and distribution. So for instance there is a cable that runs from Big Pond to Blue Hills. That cable plays a very critical role in our reliability and we are in the midst of completing the refurbishment of that cable. We are doing the same thing with some of the smaller transmission and distribution work so that we can be ready for summer. 
She continued: "And for us, although Mother Nature says the calendar of summer begins in the June 22 period, we really begin our summer calendar in May, because we know temperatures begin to heat up there. So that is our goal, to ensure summer readiness is completed in May.
"Regarding where we stand with summer readiness, I do feel very good about the level of work that our employees have conducted and our ability to be ready for the summer." 
Power Secure signed a five-year management services agreement, reportedly worth as much as $25m, with the Bahamas Electricity Corporation in February 2016. 
Since taking the helm however, PowerSecure's efforts at restructuring the cash-strapped utility provider has been marred by island-wide power outages in the capital, and on some Family Islands.